Despite all the information we have on the UK leaving the EU, it still continues to result in a lot of uncertainty about the relationship between the two. In this article, we will clarify what it means for employers when it comes to checking whether their staff have the right to work in the UK, and what prospective employees from the EU need to do now.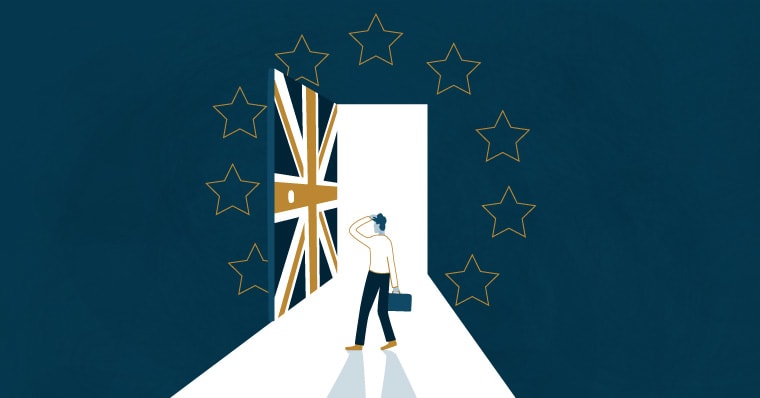 Over 2.4 million EU nationals are employed by businesses across the UK. Each one of them will have their own personal take on the UK leaving the EU: What it means for them and what they will do as a result. But, for employers, new legislation is proving to be a sea of change that requires constant navigating, specifically around what these changes mean for their current and future workforces.
Summarising the changes
Previously, EU citizens were free to live and work in the UK without the need for a visa. On 1 January 2021, this Freedom of Movement between the UK and EU ended.
If your business currently employs EU, EEA, or Swiss citizens, they will need to apply for the EU Settlement Scheme to continue living and working in the UK after 30 June 2021, on the condition they started living in the UK before 31 December 2020.
Furthermore, EU nationals that wish to come and work in the UK in the future, will now require a Skilled Worker visa. This needs to be applied for prior to travel and requires that your business has a certificate of sponsorship, as was previously the case for non-EU citizens.
The existing EU workforce: What to keep in mind
If you are already employing individuals from EU nations, it is imperative that those employees preserve their rights to continue to live and work in the UK beyond the transition period.
In order to do this, it will be necessary for all EU workers to make an application for pre-settled, or settled status, under the EU Settlement Scheme (EUSS). This also applies to individuals who may have already obtained permanent residence under EU Law.
EU workers who have not completed this action by 30 June 2021 will no longer have the right to work in the UK, so it will be essential that businesses actively engage with, encourage and support all affected personnel.
EU nationals will now come under immigration scrutiny when entering the UK in the same way as any other foreign national seeking entry. They will have to present a valid passport with at least six months' validity and, should an immigration officer not be satisfied that the EU national is already normally resident in the UK, a visitor endorsement may be applied, which means they will no longer be permitted to work in the UK. EU nationals who have settled status, however, won't be affected by this.
After 1 October 2021, EU nationals who do not hold settled or pre-settled status will not be able to rely on national ID cards for entry to the UK.
If employees lose their permission to work in the UK, employers will likely bear the brunt of the costs arising from contractual complications. If employees apply for settled status as early as possible they will get a chance to resubmit the application if it is refused. If, however, employees wait too long, they might lose permission to work in the UK and might not be able to re-apply. It's also worth noting that the process is also taking longer at the moment because of Covid-19. It is therefore critical that businesses encourage all EU employees to complete their applications as soon as possible if they haven't already done so.
The future EU workforce: What to expect
Should you seek to employ any new EU citizens, you need to ensure you check and have evidence of their rights to live and work in the UK or there will be consequences.
Anyone coming into the UK will need to obtain a work visa under a new points-based immigration system. In addition, employers looking to hire foreign nationals from both inside and outside of Europe will need a sponsor licence. You can learn more about the new process here.
---
We can help your business navigate all aspects of these rule changes and can assist with ongoing immigration programme management. Contact us at workpermits@sableinternational.com, or give us a call on +44 (0) 20 7759 5307.

We are a professional services company that specialises in cross-border financial and immigration advice and solutions.

Our teams in the UK, South Africa and Australia can ensure that when you decide to move overseas, invest offshore or expand your business internationally, you'll do so with the backing of experienced local experts.

;