Since 2018, over 4 million EU citizens and their families have applied to settle in the UK as part of the pre-Brexit EU Settlement Scheme.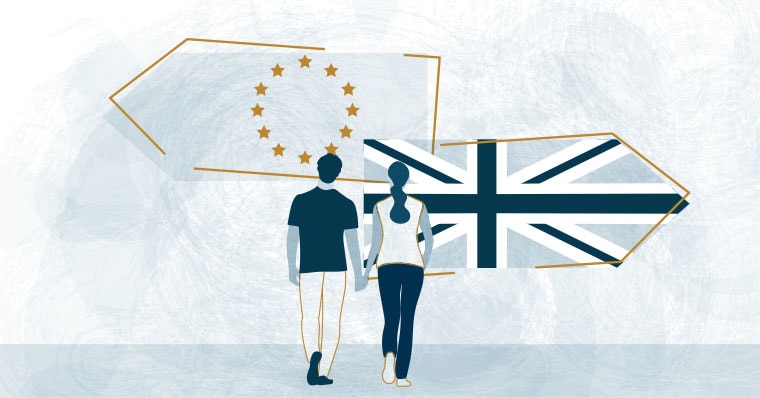 What is the EU settlement scheme?
As a current member of the European Union, the UK permits citizens from other member countries to live and work freely in the country without any additional documentation.
This will come to an end once the UK leaves the EU on 31 December 2020. However, the government has made provisions for those already living in the UK so that they can continue their lives with minimal disruption: The EU Settlement scheme.
Settled status
EU citizens, and their family members, who have lived in the UK continuously for five years have until 30 June 2021 to apply for this status, which is similar to indefinite leave to remain. If you are granted this status, you can stay in the UK indefinitely.
Settled status replaces and supersedes permanent residence. You must still apply for settled status even if you have already been granted permanent residence.
Pre-settled status
EU citizens and their families who do not yet qualify for settled status and live in the UK have until 30 June 2021 to apply for pre-settled status. EU Nationals and their non-EEA family members can enter the UK on an EEA family permit and apply for pre-settled status up until 31 December 2020. This is a temporary status that allows you to remain in the UK for the five continuous years needed before you can apply for settled status.
Applying for settled status as a family
Close family members of EU citizens, who are not EU citizens themselves, are also permitted to apply for settled and pre-settled status as long as they are living with the EU citizen in the UK. The Home Office recognises close family members as: partners, dependant children and grandchildren under the age of 21, parents and grandparents. Legally adopted family members are regarded as natural family in the eyes of UK law.
If you are not yet in the UK but want to join an EU citizen family member there, you may apply for an EU Settlement Scheme family permit. The EU citizen you're joining in the UK must already have either settled or pre-settled status, otherwise you may have to apply for the EEA family permit and switch once you're both in the UK. If the EU citizen is not already in the UK, they must travel to the UK with you within six months of the application. You will need to be in the UK before 31 December 2020.
Each child applying for the EU Settlement Scheme must have a separate application. However, their application can be linked to the parent's and they will be awarded the same status as the parent.
The EU Settlement Scheme in numbers
The EU Settlement Scheme officially opened on 30 March 2019, the day after Brexit, and the deadline to apply is 30 June 2021. With eight months to go, applications have now passed the 4 million mark.
Of those applications 98% have been approved and only 0.4% have been refused, with the others being withdrawn or invalid. The vast majority of applications were received from England (3,693,400), while 204,700 were received from Scotland, 67,200 from Wales and 66,300 from Northern Ireland.
Irish citizens do not need to apply for the scheme. However, children of Irish citizens who do not have Irish or British citizenship do need to apply.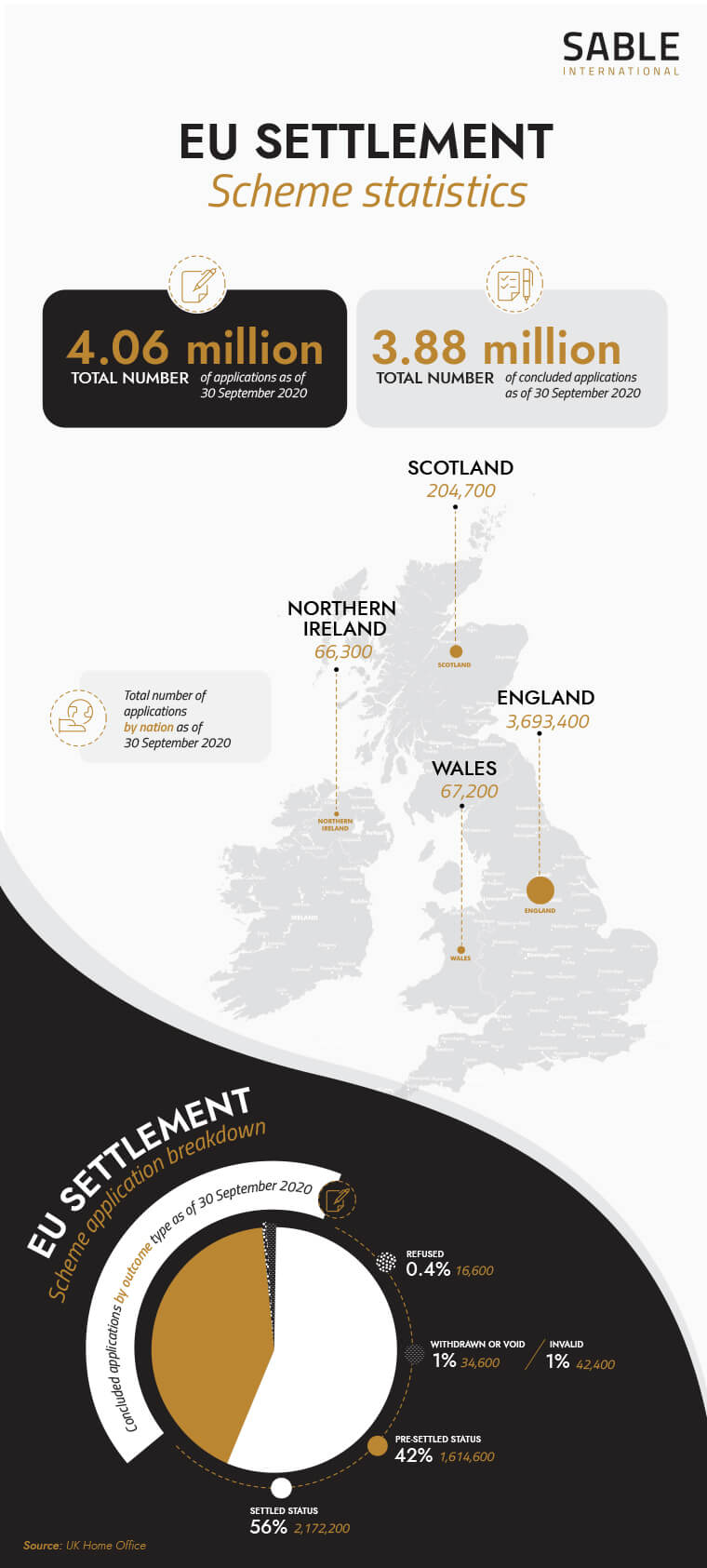 The UK government is satisfied with the number of applications so far.
"European citizens are an integral part of our society, culture and community, which is why I'm really proud we've already surpassed 4 million applications to the hugely successful EU Settlement Scheme," Minister for Future Borders and Immigration, Kevin Foster, said in a statement.
---
Our immigration team is always happy to help. Get in touch with us if you have any questions about the EU Settlement Scheme or British Citizenship in general by emailing immigration@sableinternational.com or calling +44 (0) 20 7759 4500.
We are a professional services company that specialises in cross-border financial and immigration advice and solutions.

Our teams in the UK, South Africa and Australia can ensure that when you decide to move overseas, invest offshore or expand your business internationally, you'll do so with the backing of experienced local experts.

;