The number of foreign students enrolled in Canadian institutions rose by a staggering 30% in 2022 according to Immigration, Refugees and Citizenship Canada (IRCC). With everything Canada has to offer, it's not hard to see why.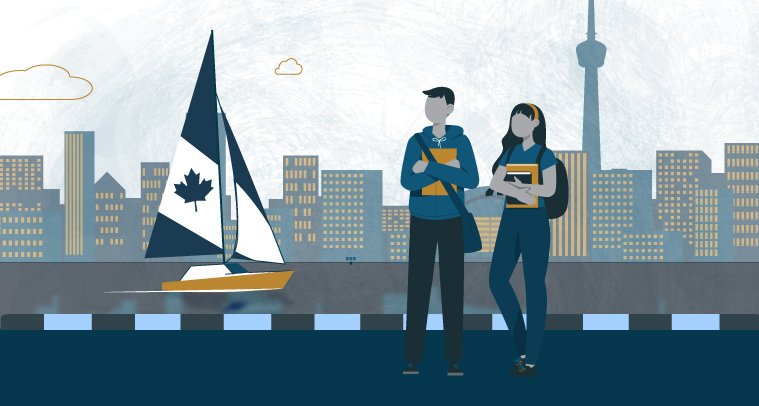 If you are looking for a high-quality tertiary education, Canada is a great option. Studying in Canada can help you develop new skills, gain a global perspective, and make lifelong friends. Here are some more great reasons to consider Canada.
High-quality education
Canadian universities are known for their excellent teaching and are at the forefront of research in a variety of fields. They offer a wide range of programmes at the undergraduate and graduate levels, and their graduates are highly sought-after by employers.
See also: What is a foundation programme and how can it help you study abroad?
Affordable tuition
The cost of tuition in Canada is significantly lower than in many other developed countries. For example, the average tuition for international students at a Canadian public university is CAD 27,000 per year, compared to CAD 45,000 per year in the United States.
The cost of living is also lower than in many other competitive countries, especially once you move out of the city.
City
Rent (1 bedroom)
in city centre
Rent (1 bedroom)
outside of centre
Basic utilities (85m2 apartment)
New York
$3,917
$2,614
$172
Miami
$2,830
$2,022
$166
London
$2,643
$1,848
$400
Seattle
$2,549
$1,978
$272
Sydney
$2,106
$1,485
$212
Vancouver
$2,023
$1,644
$106
Toronto
$1,890
$1,671
$152
Perth
$1,627
$1,185
$218
Melbourne
$1,531
$1,261
$186
Edinburgh
$1,457
$1,040
$270
Manchester
$1,255
$901
$295
Quebec
$849
$722
$147
*Average prices taken from Numbeo on 13 September 2023
Work opportunities
International students are allowed to work up to 20 hours per week during the school term and full-time during breaks. After graduation, students who have graduated from eligible institutions can apply to work for up to three years under the Post-Graduation Work Permit (PGWP) programme. This gives them the opportunity to gain valuable work experience and boost their chances of finding a permanent job in Canada.
To be eligible for the PGWP, your university programme must be longer than eight months.
| Programme length | Validity of PGWP |
| --- | --- |
| Eight months – two years | The same length of your programme |
| Two years or more | Three years |
| More than one programme | Combined length of your programmes |
Tip: Canada regularly has skills shortages in high demand occupations. To increase your chances of being sponsored to stay in Canada permanently, you can look into studying towards one of these careers. The list currently includes:
Family physician
Software developer
Financial manager
Engineers
Architects
Data scientists
Teachers
Find the full up-to-date list on the Canadian government website.
Safe and welcoming environment
Canadian universities are home to a diverse student body, which comes from all over the world. Universities often offer resources to help international students adjust to life in Canada, such as language training, cultural orientation programmes, and student support services.
Canadians are generally known for being friendly people. Canada is also considered to be a very safe country. According to the 2023 Global Peace Index, Canada is ranked as the 12th safest country in the world.
See also: How to write a Statement of Purpose for a Student visa
Beautiful natural scenery
Canada is a beautiful country with a diverse range of natural landscapes. From the mountains of British Columbia to the lakes of Ontario, there is something for everyone to enjoy. Some experiences students can enjoy in Canada include:
Skiing in the Canadian Rockies
Visiting Banff National Park
Seeing the awe-inspiring Niagara Falls
Whale watching in Vancouver
Hiking in the wilderness – there are hiking trails to suit every level of experience
---
Our study advisers are qualified to help you with applying to various programmes and will assist you along the journey.
Our direct access to partner university admissions teams makes it easy for you to apply and get your enrolment letter. Get in touch with us at study@sableinternational.com.
We are a professional services company that specialises in cross-border financial and immigration advice and solutions.

Our teams in the UK, South Africa and Australia can ensure that when you decide to move overseas, invest offshore or expand your business internationally, you'll do so with the backing of experienced local experts.

;