South Africans are limited by the South African Reserve Bank with the amount they can transfer out of the country each year without a tax clearance certificate. How does this affect South Africans needing to pay for tuition fees abroad? Here's how you can pay your international university fees so that it does not use part of your annual allowances.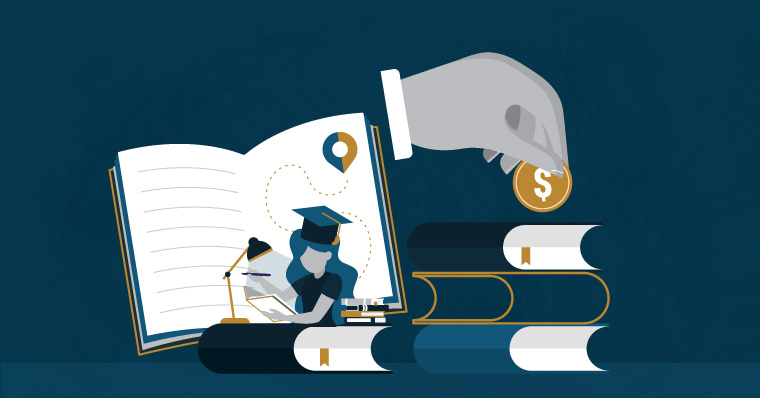 Studying abroad presents many great opportunities aside from gaining a world-class education. Not only are you granted opportunities to go overseas, to get a job and potentially stay depending on your circumstances, but you can build a global network that will last a lifetime.
Once you've secured your place at your desired university, you may need to pay part of your fees in order to secure your study visa. This will likely be below your R1 million single discretionary allowance and can be paid from that. However, if you are transferring money overseas so that you will be able to pay your rent as well as other living expenses, you can quickly reach this threshold.
See also: How to study abroad in Australia and the UK as a South African.
What is the single discretionary allowance?
South Africa has strict foreign exchange controls that allow the South African Reserve Bank to keep track of the outflow and inflow of capital in South Africa. You can transfer a total of R11 million per calendar year using your allowances.
South African residents whom are 18 years or older and hold the green barcoded SA ID book or newer ID card are eligible for the following allowances:
R1 million single discretionary allowance (no tax clearance required from SARS)
R10 million foreign investment allowance (tax clearance required from SARS)
A single discretionary allowance (SDA) is a control exchange term which refers to a limit set by the South African Reserve Bank. The SDA allows South African residents to make international payments and investments (under certain guidelines and regulations) of up to R1 million per calendar year without any supporting documents.
What can your single discretionary allowance be used for?
Your SDA can be used in the following ways:
Travel allowance
Gifts/donations
Maintenance/alimony
Investment purposes
Missionary or non-profit sponsorship
See more: How to make the most of your offshore forex allowance.
How to use your single discretionary allowance for studying abroad
This is the easiest way of paying for your studies at an international institution. If you want to use your SDA for tuition fee paying purposes, we can help facilitate this.
While minimal supporting documents are required, a South African citizen must produce a valid identity document (either the green bar-coded booklet or the Smart ID card) for identification purposes to exchange Rands for foreign currencies. Because South African residents are not permitted to send Rands out of the country, you will have to pay the equivalent Rand amount into an account, where it will then be converted into the currency quoted on the invoice you received before being paid to the institution.
See also: International money transfers: Top tips and advice from forex brokers.
What if my tuition fees are more than the single discretionary allowance?
While you can use your SDA to pay for your university fees, if they are more than R1 million – for instance, if you're studying an MBA at Oxford – then there is a study allowance you can use as long as you have the supporting paperwork, which includes:
An offer of acceptance
A letter of enrolment
An invoice of payment with your full name and the school's letterhead - with banking details
A valid green bar-coded South African ID booklet or Smart ID card
You would need all this paperwork in order to secure your study visa as well, so it would be advisable to make multiple copies. It should be noted that there is no limit to the study allowance as long as you have the necessary documentation.
How we can help with international money transfers
In order for us to assist you with paying your fees at an international educational institution, your fees will have to be R100,000 or more. When thinking of making large international money transfers, your first port of call might be the bank. However, banks fall short when it comes to advice, competitive pricing and attractive rates.
We have years of industry experience, facilitating over 140,000 transactions for 60,000 registered clients each year, so we know how to make the process of paying your tuition fees internationally as convenient and cost-effective as possible.
---
When you're looking to transfer money out of South Africa, you deserve the best possible exchange rates, fees and personalised customer service.

Sable International's forex division specialises in transfers of over R100,000 and can assist with discretionary allowance payments, gift payments, inheritances, study allowances, tax clearance applications and more at excellent, bank-beating exchange rates.

Get in touch on +27 (0) 21 657 2153 or saforex@sableinternational.com.
We are a professional services company that specialises in cross-border financial and immigration advice and solutions.

Our teams in the UK, South Africa and Australia can ensure that when you decide to move overseas, invest offshore or expand your business internationally, you'll do so with the backing of experienced local experts.

;