In today's digital era, sending money abroad should be fast, flexible and secure. We have put together this international money transfer guide that includes top tips from forex brokers and breaks down why using banks for money transfers is an outdated practice.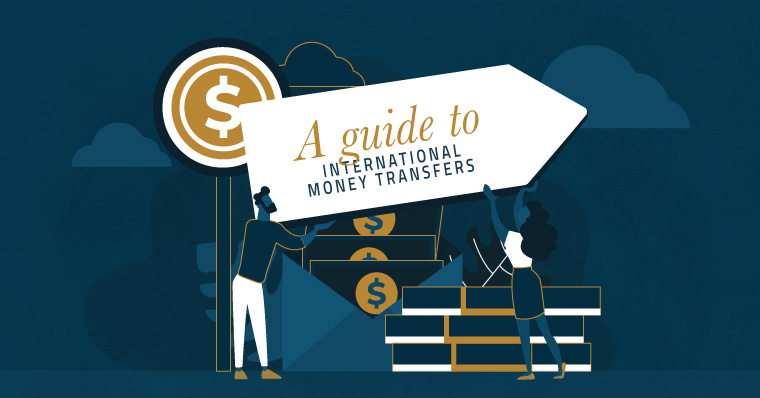 Our top tips for sending money abroad include:
Don't use banks. Banks typically charge high fees and have high margins on the exchange rate.

Avoid companies that take high commission fees and don't use the best exchange rates, we explain the red flags to avoid.

Stay on top of exchange rate fluctuations. Pay attention to upcoming central bank announcements and market watchers.

Use tools that can protect you against currency fluctuations and market exposure.

Use a company that has employees available for you to speak to, who can intervene and assist where needed, with customer service being a priority.
Why you shouldn't use banks for money transfers
For banks, which offer many different services, international money transfers are not usually a major aspect of their business. This has many negative knock-on effects.
Banks typically have high fees for transferring money, some of these are hidden, and you may only find out about these once the transfer has been made, meaning you lose money. Banks also offer poor exchange rates and have longer clearing times, which can result in waiting many days for your money to arrive.
Banks are not usually known to have good customer service when it comes to international money transfers, so you could be left without answers should anything go wrong with your transfer.
The main fees you should be aware of when using a bank to transfer money internationally
Transfer fees:

Banks often charge a fixed fee for sending money. Banks are known for charging a high international transfer fee. International transfers are an ancillary service and therefore not that competitive as it's not their primary focus.

Receiving fees:

No one gets the mid-market exchange rate, all money transfer businesses will add a markup to the rate they give you. However, banks tend to apply a far greater markup, leaving you with a poorer rate and ultimately a reduced amount arrives on the other side.

Exchange rate costs:

International bank-to-bank transfers will always include a transfer fee and a receiving fee. Receiving fees are very seldom disclosed initially. Your bank will give you the option to pay the receiving fee or you can have it deducted when the money reaches the recipient's bank. Either way, you're in for fees.

Currency transfer companies to avoid

Some of the biggest money transfer companies are often not the cheapest way to send money internationally. As these companies have grown into money transfer giants they have also become known for taking an extremely high percentage of the money that you're sending as commission or fees, hiding costs well and having no real person that you can speak to if things go wrong.

Top tip: You are always going to be in for higher commissions and fees when you choose a company that deals in cash, be it accepting or paying out in cash, as there is a higher level of risk involved and a premium is charged accordingly.

Stay on top of exchange rate fluctuations and currency changes

With the exchange rates constantly changing, timing matters a lot when you're moving your money. To get the best rates and make the most of your money, you want to stay up to date and in the know on currency matters. You can have a forex broker keep track of currency exchange rates for you as well as sign up for rate notifiers.

Stay up to date with our Weekly market watch, for market movements and detailed forecasts for major currencies and if you're interested in the South African Rand you can sign up for The Daily Rand Report written by our currency experts for weekday currency updates. You can also sign up to the monthly mailing list for important news and updates.

Use tools that can protect you against currency exposure

Check currency conversions, historical currency levels and use a forex broker that has risk management options. Both businesses and individuals can benefit from managing currency exposure. We offer market orders, which allow you to step up orders that are automatically filled when the price you have chosen is reached. As well as forward contracts and currency options that let you lock in specific prices ahead of time, saving you money and giving you peace of mind about your money transfers

Top Tip: We also offers automatic, recurring transfers for those who need 24-hour, stress-free options. These can all be done easily online by setting up your money transfer account.

Use a company that focuses on customer service, one that you can contact directly

Moving money can be daunting and if anything goes amiss, you want to know you can speak to a real person who can assist you immediately. There is nothing more frustrating than getting no answers from an automated answering service when you're worried about the location of your funds. Many of the largest online transfer companies do not offer support from real people and their customer support is almost non-existent. When you sign up with a currency transfer service, check the reviews online and customer support options. Make sure there is a contact number visible and that you will be able to speak to a broker who can assist you. Sable International has over 26 years of experience moving money around the globe and thousands of five-star reviews from happy clients.

What should you look for when choosing a forex broker

These days, moving money should be as simple as signing up, logging in and transacting online. Sable International is proud of the services offered, one that we have worked hard on, to create a seamless process that delivers your money quickly and efficiently. Our exchange rates are quoted in real-time and online assistance is offered via a live chat, with responses from people whose sole purpose is to help you execute a transaction quickly and easily.

---

We're offering all new clients their first three transfers free of charge. Sign up and test our service for yourself. We're online and always available for a chat if you have any questions. Email forex@sableinternational.com or call +44 (0) 20 7759 7554

Sable International is a fully regulated and registered financial services provider in South Africa, the UK and Australia. If you'd like to transfer money out of South Africa, we can help.
We are a professional services company that specialises in cross-border financial and immigration advice and solutions.

Our teams in the UK, South Africa and Australia can ensure that when you decide to move overseas, invest offshore or expand your business internationally, you'll do so with the backing of experienced local experts.

;