Whether you're in a relationship with an Australian citizen, or currently doing long distance, here's everything you need to know about getting a partner visa, including cost, processing times and a breakdown of the requirements.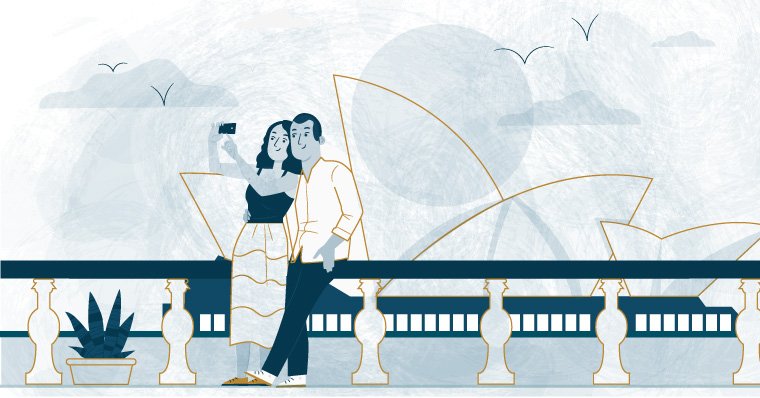 Australian partner visas provide a way for those in serious, committed relationships with either an Australian citizen, permanent resident or eligible New Zealand citizen, to join their partners in Australia.
What are the different routes for Australian partner visas?
The visa subclass that you apply for will depend on your relationship and where you apply from.
Temporary vs permanent
The Australian Partner visa category is divided into various subclasses. Their classification is dependent on whether the visa is temporary or permanent as well as where the application is made.
The Department of Immigration and Border Protection assesses applications under a "combined application". This means that your application will be assessed against the criteria for both temporary and permanent partner visas. You will be issued with the appropriate visa, depending on which criteria you meet.
Applicants who can demonstrate that they have been in a married or de facto relationship with their Australian partner for a minimum period of three years will be eligible for a permanent partner visa. Those applicants with less than three years of evidence will be granted a temporary partner visa and will be eligible to apply for a permanent partner visa two years after the submission of the initial visa application.
Once granted, the Permanent Partner visa is valid for five years and once you meet certain residency requirements, you would be able to apply for citizenship.
Onshore vs offshore
There are different subclasses of partner visa depending whether you are making the application from overseas or are already in Australia.
Partner subclasses 820 (Temporary) and 801 (Permanent) can only be applied for if you're already in Australia. If you wish to apply from another country, you'll need to look at the Partner visa subclasses 309 (Provisional) and 100 (Migrant).
Married vs de facto relationship vs prospective marriage
The partner visa makes allowances for different types of partner. You don't necessarily have to be legally married if you can show you're in a "de facto" relationship. A de facto relationship means you are committed to a shared life together, live together, your relationship is genuine and continuing and the relationship has existed for at least 12 months before you apply for the visa. A de facto relationship can be with someone of the same or a different sex.
A Prospective Marriage visa (subclass 300), also known as the "fiancé visa", is a nine-month permit that allows a partner to come to Australia so they can marry an Australian citizen. It is often used by couples who would not otherwise qualify as having a de facto relationship.
The visa holder is required to marry their Australian partner and apply for the subclass 820 and 801 partner visas before the Prospective Marriage visa expires.
The checklist for a partner visa
Use this Australian partner visa checklist to determine if you might be eligible.
1. Relationship:
We're married
We're civil partners
We've been living together for at least 12 months in a committed relationship
We're going to be married before we emigrate to Australia
We plan to get married in Australia
2. Police clearance
I can obtain police clearance from every country I've lived in for over a year in the last decade.
3. Joint finances
We have joint finances or financial obligations and can provide proof.
4. Shared responsibilities
We share household responsibilities (such as renting a property together, raising children together or paying for utilities together) and can provide proof.
5. Relationship is genuine
We have joint finances or financial obligations and can provide proof.
6. We have travelled together
7. Shared interest
We have photographs, tickets, invitations and other proof of a shared social life.
8. Future plans
We have evidence of plans for a future together
Our migration agents have processed hundreds of partner visas and can help you put together proof of your relationship.
What is the processing time for an Australian partner visa?
An Australian partner visa generally takes 12-24 months depending on the visa.
| | | |
| --- | --- | --- |
| Subclass 820 Partner visa (Temporary) - Onshore | 75% of applications: 23 months | 90% of applications: 28 months |
| Subclass 309 Partner visa (Provisional) – Apply overseas | 75% of applications: 15 months | 90% of applications: 20 months |
| Subclass 801 Partner visa (Permanent) – Onshore | 75% of applications: 15 months | 90% of applications: 19 months |
The cost of a partner visa
The base fee for the combined application for an Australian partner visa is AUD 7,715. When Prospective Marriage visa holders apply for the Partner visa after they're married, they will need to pay a further AUD 1,285.
In addition to the visa fee, applicants need to factor in costs for potential medical tests and police verifications, which are non-refundable if the application is rejected. Due to the financial risk associated with this visa, many applicants are choosing to work through migration agents to increase their chance of success.
Sable International offers a no-visa no fee guarantee on the above visas. This gives you an assurance that we will only take on your case and submit your application when we are confident of it being approved.
---
Want to make sure your visa application has the best chance of success? Our visa consultants have expert experience in ensuring people get their desired visa.
If you're thinking of migrating, give us a call on
We are a professional services company that specialises in cross-border financial and immigration advice and solutions.
Our teams in the UK, South Africa and Australia can ensure that when you decide to move overseas, invest offshore or expand your business internationally, you'll do so with the backing of experienced local experts.