Corporate compliance is an important part of sponsoring workers from overseas. If you fail any of the checks by the Home Office you can face losing your sponsorship licence.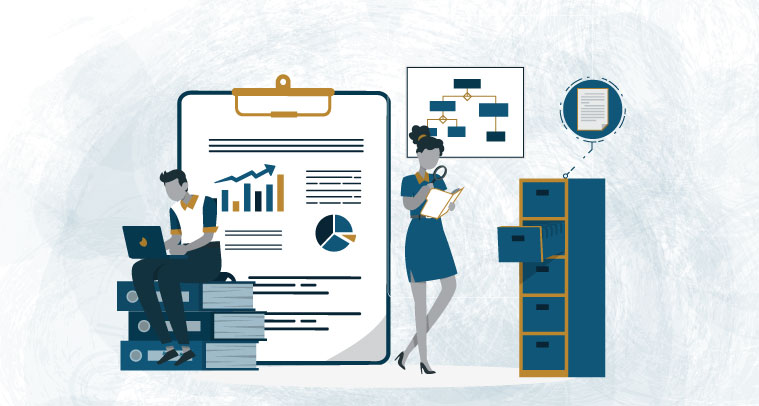 Compliance, when it comes to sponsoring overseas workers, has a lot of moving parts to keep track of and it is one of the most important responsibilities you have. If you fail a compliance check by the Home Office, you can face penalties, a downgrade in your sponsorship grade or you can have your licence revoked altogether. If your licence is revoked, you must cease employing any existing sponsored workers and be precluded from applying for another licence for a period of 12 months. Therefore, it's very important to have your house in order when it comes to compliance.
It is of utmost importance that UK businesses conduct a comprehensive internal immigration compliance audit to identify any weaknesses in their systems and processes.
Below, we take a look at the five most important pillars of compliance checks.
1. Right to work checks
The recruitment process
This process should include a screening stage for verifying the identity, qualifications and Right to Work status of candidates. It should be adapted based on the type of work offered and the migrant's nationality.
Documentation retention
There should be policies and procedures in place to ensure relevant documentation is stored, updated and retained in accordance with statutory and Home Office rules. You must keep a photocopy or electronic copy of each migrant's passport, UK immigration status document, or online Right to Work check, showing evidence of their entitlement to work in the UK, and make these documents available to the Home Office on request.
2. Maintaining migrant worker contact details
The Home Office expects sponsors to keep each sponsored migrant's contact details, including address, phone number and mobile phone number, and to make them available on request. This should also include a historic record of previous addresses.
Monitoring the working hours of sponsored migrants
Sponsors must ensure each sponsored migrant is working in line with their permission. This includes carrying out regular checks to ensure that sponsored migrants are not working longer than their visa permits or moving from one job to another without permission.
Paying appropriate salaries
Sponsors must pay their workers a salary which meets the Home Office's minimum thresholds, which are set in line with the relevant immigration rules. As of 2022, the minimum salary requirement for the Skilled Worker visa is whichever is the highest out of the following three options:
£25,600 per year
£10.10 per hour
The 'going rate' for the type of work you'll be doing
3. Record keeping for sponsored workers
In line with the Document Retention Responsibilities outlined as a requirement for all sponsored migrants, sponsors must be able to provide any documents for their sponsored migrants that the Home Office considers relevant. For example, an employer is expected to be able to provide documents such as employment references from previous employers, copies of qualifications, any professional accreditations and the details of the sponsor's recruitment practices, to ensure that the sponsor is applying the resident labour market test where appropriate.
4. Migrant tracking and monitoring
A fundamental element of the sponsor licence obligations centres on the responsibility of sponsors to track, monitor and report on their migrant population. The Home Office will use information about migrants' non-attendance, non-compliance or disappearance to decide on enforcement action against them and they expect sponsors to assist with this process.
You must have an appropriate system in place to track the attendance and work hours of all your sponsored workers. The system should be in line with Home Office requirements and any updates and changes should be logged.
5. General licenced sponsor duties
Sponsors must ensure that all users of the Sponsorship Management System (SMS) are aware of their responsibilities in order to comply with UK immigration law.
The sponsor must also demonstrate that it has a process in place to ensure that the allocation of Certificates of Sponsorship (CoS) is carefully controlled and managed. There should also be a procedure in place to ensure that the Home Office is informed of any changes to the organisation or its structure.
If there are any significant changes to your organisation, you must report these within 20 working days of the change. Examples of significant changes include if you:
Change your company's name or the name of any of your branches
Sell all or part of your business
Are involved in a merger or are taken over
Stop trading or go into insolvency
Substantially change the nature of your business
Are convicted of a relevant offence
In order for sponsors to ensure that they comply with Home Office rules, they should carry out an internal audit of their systems, processes and retained documents. This means that when the Home Office conducts a compliance visit on their business (which may be unannounced), they can be confident that they will not face any enforcement actions.
Our Business Immigration division will make sure that the correct processes and human resources practices are in place that enable the business to meet their sponsorship duties. We will also ensure that the sponsor is compliant with their legal responsibilities as an employer to prevent any breach of immigration law.
---
We understand the complexity of UK immigration law and the issues that could lead to non-compliance. Our experienced team in the UK can guide you through these complexities. Contact us on +44 (0) 20 7759 5307 or at workpermits@sableinternational.com.
We are a professional services company that specialises in cross-border financial and immigration advice and solutions.
Our teams in the UK, South Africa and Australia can ensure that when you decide to move overseas, invest offshore or expand your business internationally, you'll do so with the backing of experienced local experts.