You want to move to Australia and you need to complete your visa application. The problem is, you don't know how long it's going to take. Here are some of the general visa processing time frames for popular Australian visas.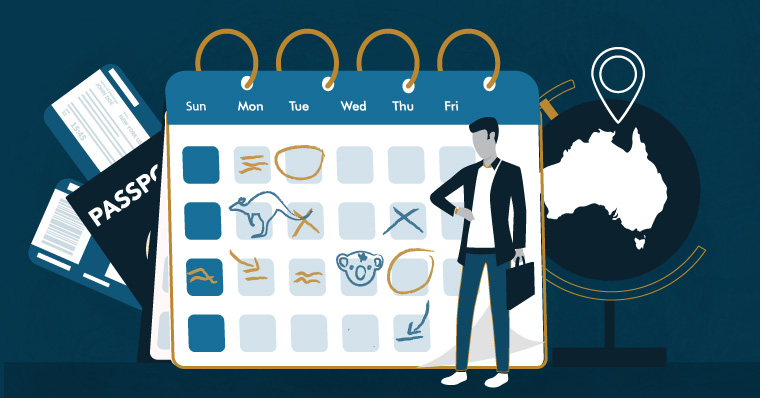 There is no exact answer when it comes to Australian visa processing times, they are constantly in flux and there is no way of knowing exactly how long it will be before you get an answer on your visa. These times are guidelines set out by the Australian government and are subject to change.
Government prioritising "on-hand" visa applications
The Australian government has stated that it is working to reduce the time it takes to finalise visa applications by increasing the number of staff processing applications. They are currently prioritising applications lodged by people outside of Australia, including Temporary Skilled, Student and Visitor visas.
Visa processing times from fastest to slowest
The Australian Department of Home Affairs updates its site with the full list of visa processing times monthly. These times are averages as the time period can change based on application volume, seasonal peaks and complex cases.
The Australian migration skill stream
If you are looking to immigrate to Australia, these are work and study visa options to fill shortages in the Australian labour market.
The processing times are:
| Visa subclass | Visa name | 90% of applications processed in |
| --- | --- | --- |
| 417 | Working holiday visa | 14 days |
| 858 | Global Talent visa | Nine months |
| 500 | Student visa – Higher Education sector | 57 days |
| 500 | Student visa – Postgraduate Research sector | 13 months |
| 190 | Skilled Nominated visa | Nine months |
| 494 | Skilled Employer Sponsored Regional visa (provisional) – Employer Sponsored stream | 11 months |
| 491 | Skilled Work Regional visa (provisional) – State/Territory | 22 months |
| 186 | Employer Nomination Scheme visa – Direct Entry | 11 months |
| 491 | Skilled Work Regional visa (provisional) – Family Sponsored Regional | 23 months |
| 188 | Business Innovation and Investment visa (provisional) – Significant Investor stream | 22 months |
| 188 | Business Innovation and Investment visa (provisional) – Business Innovation stream | 39 months |
| 188 | Business Innovation and Investment visa (provisional) – Investor stream | 44 months |
| 476 | Recognised Graduate Route | 37 months |
| 189 | Skilled Independent visa – Points Tested | 10 months |
See also: A guide to Australian work visas
The Australian migration family stream and visitor visas
These are residential visas to reunite Australian citizens and permanent residents with loved ones from other countries. The processing times are:
Visa subclass
Visa name
90% of applications processed in
600
Visitor visa – Tourist
22 days
600

Visitor visa – Sponsored Family

Visitor visa – Business Visitor

42 days

13 days

801
Partner visa – Permanent
17 months
100
Partner (Migrant) visa
27 months
300
Prospective Marriage visa
33 months
309
Partner (Provisional) visa
23 months
820
Partner (Temporary) visa
27 months
Factors that influence visa processing times
There are many circumstances that can affect how long your Australian visa takes to get processed. These include factors such as:
Whether your visa application is complete and all the supporting documentation is included
The time taken to respond to Australian Home Affairs' requests for additional information
How long it takes to receive information from external agencies. This includes, but is not limited to, health tests, character tests, and national security requirements
How many places are available in the migration programme
How we can help you move to Australia
Don't know what supporting documentation you need to include in your Australian visa application? Want to know more about a visa not on our list above? We're here to help. Hiring us means hiring a business with over 20 years of immigration and nationality experience who treats every case on an individual basis.
We have offices in Cape Town, Melbourne, and London to help you navigate this complicated time in history.
---
Considering the move to Australia? If you'd like more information, please don't hesitate to get in touch with us at migration@sableinternational.com or by calling +27 (0) 21 657 1526.
Our registered migration agents can offer you expert advice and representation for moving to and gaining permanent residency in Australia.
We are a professional services company that specialises in cross-border financial and immigration advice and solutions.
Our teams in the UK, South Africa and Australia can ensure that when you decide to move overseas, invest offshore or expand your business internationally, you'll do so with the backing of experienced local experts.