Ireland's residency-by-investment programme has now closed. There is, however, one last opportunity to secure you and your family residency through investment in Ireland, the only English-speaking European country.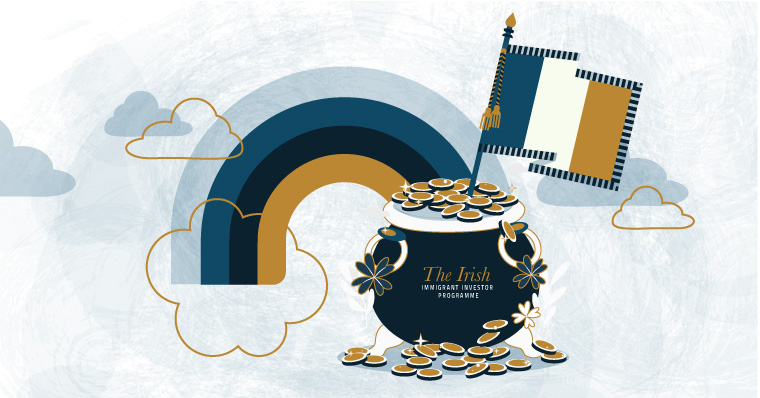 On 14 February, the Irish government announced that it would be closing its popular Ireland Immigrant Investor programme (IIP), which offers families access to Irish residency in exchange for an approved investment in the country's rapidly-growing economy.
This follows discussions across the EU about limiting so-called "golden visa" programmes to reduce abuse by unsavory applicants.
While the programme has closed as of 15 February, our partner, the Irish Diaspora Loan Fund (IDLF) can still accept final investors at this time.
To qualify for the programme, applicants need to be able to meet the minimum net wealth requirement of EUR 2 million and make a qualifying investment of EUR 1 million into an approved fund.
Why invest in Ireland?
Although Ireland is famed for its mighty cliffs, rolling hills and megalithic monuments, it has turned into quite the entrepreneurial paradise – staking a claim as one of the fastest-growing economies in the Eurozone and the sixth most competitive economy in the world.
Ireland is known for offering the world's warmest welcome and is a superb destination to raise a family.
With the youngest population in Europe – almost half of the 5 million population is under the age of 34 – the cities are filled with a youthful energy. In addition to this, Ireland's education system is amongst the top 10 globally and Irish universities produce more entrepreneurs than anywhere in Europe.
Now Brexit is long finalised, the Irish passport is now the only passport in the world that offers full access to the EU and to the UK. The Common Travel Area agreement permits Irish citizens to enjoy permanent residency in the UK along with all associated benefits.
Benefits of the Ireland IIP
A fast route to achieving Irish permanent residency: Approvals granted in approximately 6-9 months.
No requirement to relocate to Ireland – Irish residency can be maintained indefinitely with just a one-day minimum stay in Ireland per year.
High standards of education – an excellent Plan B for families looking to educate children in Ireland.
There are no requirements regarding age, business training, management skills, education, experience or language skills and no point system.
The programme covers investors, their spouses, children and adult dependant children up to the age of 24 years (provided they are unmarried, financially dependent on the principal applicant and enrolled in full-time tertiary education).
Applications for Irish Citizenship are possible after five years of physical residency in Ireland.
An Irish passport provides the freedom to live, work, study or retire in Ireland and in any other EU country and provides UK permanent residency.
Irish passport holders can travel visa-free to 188 countries.
Ireland has no restrictions on dual citizenship.
See also: Seeking residency by investment? The advantages of Ireland's programme
About our Irish partner
Sable International's long-standing partner, the Irish Diaspora Loan Fund (IDLF), is a government-approved investment fund which is authorised and regulated by the Central Bank of Ireland.
They provide senior debt to a range of Irish business sectors as designated by the Irish government's priorities for the IIP and offer an attractive option for investors applying to the IIP who seek a low-risk, reputable and highly regulated investment.
To date, IDLF has a 100% approval rate for its investor applicants.
---
Interested in Ireland's investment visa? We can help answer your questions and choose the best investment option for you and your family.
We are a professional services company that specialises in cross-border financial and immigration advice and solutions.

Our teams in the UK, South Africa and Australia can ensure that when you decide to move overseas, invest offshore or expand your business internationally, you'll do so with the backing of experienced local experts.

;