Julian Dearson heads up our new Immigration Compliance service, which offers a comprehensive immigration compliance audit service for UK businesses. In this interview, we get to know Julian and learn about his interests, upbringing and how he joined our company.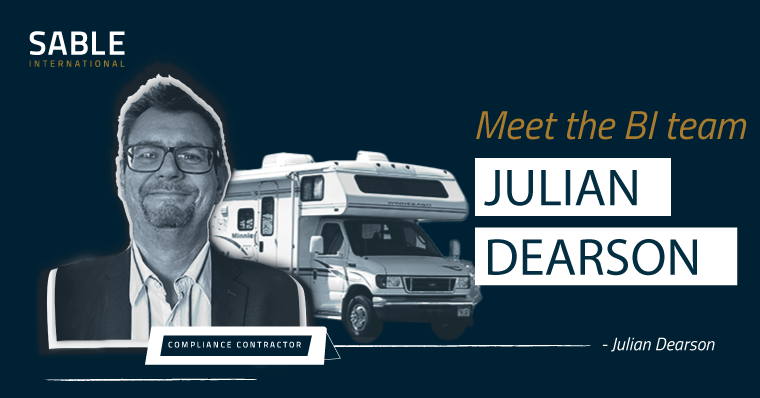 Where did you grow up?
I was born in north London. In the late 1960s, my family decided to move to Cornwall in the southwest of England. We moved there, bought a shop in a small village and lived there for a year. My mother was from the East End and missed home, so we moved to Croydon in south London, which happened to be near the town where our BI managing director, Darren Faife, grew up.
I went to primary school next to where Darren eventually went to high school. I didn't really apply myself at school, so when my high school education was completed my mother suggested sending me to Australia instead of funding my studies. I accepted this with open arms and left London at the young age of 18 and went to Australia on a working holiday.
After returning, I planned to travel to the United States, so I took a civil service job to finance that trip. Life happened and I ended up working in service for five years and two months. At that point, in 1988, I thought it was not for me. I left the civil service and went to work for a private company providing immigration advice.
See also: Meet the BI team: Darren Faife
How did you come to work for Sable International?
I was suffering from the holiday blues after a lovely motorhome trip through France and met Darren for a drink about a month later, purely social. He mentioned that he'd like to get me involved again.
We spoke on the phone a few times and talked about what we could do, and then we agreed that I'd take care of compliance and auditing, which has always been the part of my job that I enjoyed the most. My role at Sable International is to identify and address any areas of non-compliance to ensure that your company meets all Home Office requirements. I came over in December 2022 and met the team for the first time and I've been on board since the beginning of 2023.
See also: How to conduct a comprehensive immigration compliance audit for your UK business
How do you spend your free time? Do you have any hobbies?
My partner and I enjoy motorhoming (RVing) and we have an American RV. For the first year of my retirement, we rented out our house and lived in the RV to travel. It was really challenging, but also really enjoyable. We love exploring towns and villages we have not been to before.
I am also passionate about sports – especially rugby and cricket. I enjoy watching sports, and every year, a friend and I go watch the Six Nations. I've previously visited India to watch cricket and am planning to visit Old Trafford for cricket and France for the Rugby World Cup later this year.
What is your dream vacation?
I would love to do an RV trip around the United States, which I never got around to doing all those years ago. You fly to Chicago and rent an RV that you pick up there and deliver to the West Coast. You have four weeks to do that and you can make up your own route or itinerary, which is what I'd like to do. The problem is getting us both there because my partner does not fly and she does not like boats, so it's going to be tricky.
Do you have any pets?
I have one dog, Marley. He was about six months old when we got him, and he had been through a lot as a working Cocker Spaniel by then. The breeder who had bred the litter kept him back and started doing proper gundog training with him. He's gone lame a few times in his hind leg and has a somewhat problematic knee and we're of the opinion that you can't have that as a working dog.
At that time his name was Woody, and I didn't really like that. We tried a lot of names that all had to have the same syntax. Marley was the only name we could all agree on. We told them we wanted to change it from Woody to Marley, and as part of the training they did.
Marley is an important part of our lives – we take him everywhere. He loves going in the RV, going for walks in nature and I even take him to the pub.
Do you have a favourite meal?
This is a tricky one. In the last 18 months, probably from November 2021 to spring last year, I have lost five stone, which is about 32 kilos. I managed to do this by cutting carbs out of my diet, with the exception of alcohol, because I like beer. So, my favourite food is probably something low in carbs, like protein.
At the moment, I love a good pork dish. From roasting to smoking, you can make chops, bacon, ham and sausages – the possibilities are endless. I've made my own bacon before, which was a great experience. A friend of mine is a butcher so I bought a bit of pork belly and he gave me some curing salt. I hung it in the shed and was really pleased with how it came out. I'm definitely going to do it again.
What's your favourite movie of all time?
It's very difficult to name one film, so I'll name two. I love James Bond films and my favourite war film is Apocalypse Now, I absolutely love that one. My favourite comedy is probably The Producers original 1960s version with Zero Mostel and Gene Wilder. Those two films will always be in my top 10.
What do you believe is the most important value a person can have?
Honesty and trustworthiness.
---
Julian and the rest of the Business immigration team are on hand to help you navigate all aspects of business immigration, from assisting with sponsor licences to ongoing immigration programme management. Get in touch at workpermits@sableinternational.com or call +44 (0) 20 7759 7584.
---
We are a professional services company that specialises in cross-border financial and immigration advice and solutions.

Our teams in the UK, South Africa and Australia can ensure that when you decide to move overseas, invest offshore or expand your business internationally, you'll do so with the backing of experienced local experts.

;