A UK spouse visa renewal isn't always guaranteed. We discuss some of the pitfalls you should avoid when submitting your application to be successful.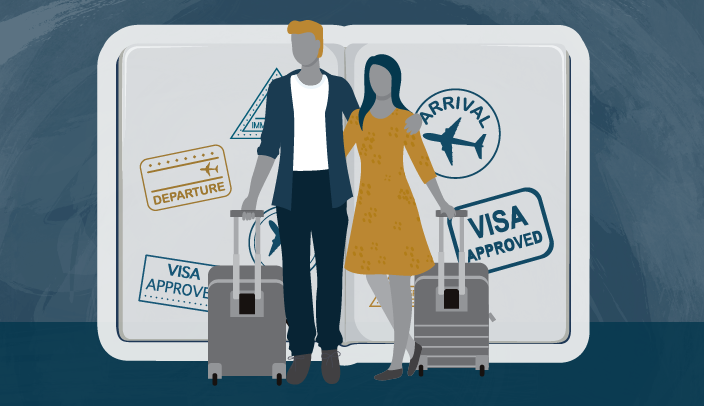 A UK spouse visa allows a foreign national to join their British or settled partner/spouse in the UK for an initial period of two and a half years. If you want to secure indefinite leave to remain (ILR), then you will need to extend your spouse visa for another two and a half years. This will give you the five continuous years of residency that you need for ILR.
Much of the same eligibility criteria that you met initially must be met again when applying for a UK spouse visa extension. Please note that just because you were successful the first time around, it doesn't mean that your extension will be guaranteed.
What are the reasons a UK spouse visa renewal gets rejected?
Not meeting the higher English language requirement

A common reason for an extension being refused is by not meeting the English language requirement. The Home Office believes that after having spent two and a half years in the UK, your language skills should have improved.
For the initial spouse visa application, you were required to pass at level A1 on the Common European Framework of Reference for Languages (CEFR) scale. The English Language requirement to extend in the UK is level A2 unless you are exempt.
If you completed at a higher level (such as B1) in a previous application, you will be able to reuse the test result again when you apply for both your spouse visa extension and your ILR application after five years.
Not meeting the financial requirement anymore
The financial requirement for the spouse visa extension is a gross annual income of £18,600, which can be met through income from either the applicant, their partner or both combined. You will need an additional income of at least £3,800 for your first child and £2,400 for each child you have after if the children are being sponsored in the UK.
When it comes to meeting the financial requirement, there are five main sources of income that can be used, which includes employment, self-employment, non-employment income, pension and cash savings. It is extremely important that you provide all the relevant documents for the type of income relied upon.
If you are unable to meet the financial requirement prior to submitting your application, you are likely to have your extension refused.
Having insufficient documentation
Applications may also be refused due to insufficient documentation to prove either your relationship or finances. You have to submit recent evidence that you and your partner are still together. The Home Office provides a list of the documents you can include with your application. These are listed in three tiers, with tier one being the most valuable when it comes to proving your ongoing relationship. These include:
A tenancy agreement
A utility bill
A marriage certificate
A joint bank statement
DWP/HMRC letters to demonstrate family unit as claimed
Car finance agreement documents which evidences the address as claimed
Insurance documentation which evidences the address as claimed
Evidence of joint finances business ventures or commitments (such as tax returns, business contracts, investments)
You can also include items from tiers two and three to bolster your application. These include things like photographs, and holiday booking confirmations.
Please note, you will be required to submit a variety of documents dependant on what source of income you use to meet the financial requirement.
What happens if my spouse visa expires in the UK?
If you are in the UK and you do not renew or switch to another visa category before your current spousal visa expires, you will become an overstayer. Being an overstayer in the UK is a serious offence and can lead to negative consequences, such as:
Deportation from being in breach of immigration laws.
Facing difficulties in future visa applications, as overstaying can impact your immigration history and credibility.
Being subject to detention and removal from the UK.
Your access to public services, such as healthcare, education, and social benefits, being restricted.
Being unable to work legally or open a bank account.
It is important to take action before your spouse visa expires to avoid these negative consequences. You should either apply to extend your visa or switch to another visa category before your current visa expires.
Please note that if your visa expires whilst you are awaiting a decision on a new application, you will usually still be considered as having valid leave until the new application is decided.
When do I need to renew my UK spouse visa?
Typically, you should apply for an extension of your spouse visa approximately 28 days before your current visa expires or after you have been in the UK for two and a half years. Should you apply too early for your spouse visa extension, there may be consequences for your future indefinite leave to remain application.
What is the UK spouse visa renewal fee?
You can only apply to extend your spouse visa from within the UK. The application fee in 2023, per application – including children - is £1,048 with the option to use the super priority service for an expedited decision, which is an additional £800.
In addition, you will have to pay the immigration healthcare surcharge of £624 for adults over 18 and £470 for child applications for each year over the visa being issued.
Going from a spouse visa to ILR
After your extension, you would have spent five continuous years in the UK, which is one of the requirements for ILR. You will be eligible to apply for British citizenship once you hold ILR either immediately if you are married to a British citizen or after holding ILR for 12 months if not married to a British citizen.
---
Our consultants stay up to date on all the changes to UK immigration rules. If you have any questions about obtaining a UK visa, switching to a different visa or extending your current visa, get in touch with us on +27 (0) 21 657 2180 or at immigration@sableinternational.com
We are a professional services company that specialises in cross-border financial and immigration advice and solutions.
Our teams in the UK, South Africa and Australia can ensure that when you decide to move overseas, invest offshore or expand your business internationally, you'll do so with the backing of experienced local experts.