From 6 April 2016, Australians and New Zealanders living in the UK will have to pay a £200 annual fee to the NHS. Once you've paid this surcharge you will be given access to the NHS as if you were a permanent UK resident.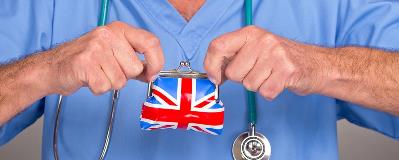 The surcharge was first introduced in April 2015 for almost all new entrants to the UK with a visa valid for six months or more. Australians and New Zealanders were originally exempt from the surcharge, but now will be made to pay. Immigration Minister James Brokenshire stated on the UK Government website:
"The health surcharge is already playing a vital role in ensuring Britain's public service is provided on a basis that is fair to all who use it.
We believe it is only fair that Australian and New Zealand nationals, who have previously benefited from a one year exemption from the immigration health surcharge, will now contribute to our health service in the same way as other non-EEA nationals."
The benefit
Paying the surcharge entitles you to use the NHS as though you're a permanent UK resident. This means that most of the healthcare you receive from the NHS will be free of charge. Do note, some procedures are excluded such as dental treatment, eye tests and prescription medications.
How much is it?
The NHS surcharge has been set at £200 and it must be paid annually. If you have dependants, they will be charged the same amount as the main visa holder. Those of you who apply as students on the Tier 5 (Youth Mobility Scheme) visa will receive a £50 discount.
Who has to pay?
All Australian and New Zealand nationals who have decided to live and work in the UK for a period of six months or more. If you are extend your stay from within the UK, you will also be required to pay the surcharge.
Who does not have to pay?
There are people who will be exempt from paying this surcharge. They are:
Travellers on visitor visas
Visitors staying in the UK for less than six months
Tier 2 visa intra-company transfer applicants
Returning residents
Those applying for a Certificate of Entitlement to the Right of Abode
The NHS surcharge does not affect any of the reciprocal healthcare agreements between Australia, New Zealand and the UK. Residents of both countries will not be charged for urgent treatment received in the UK.
More information will be released by the Home Office closer to 6 April 2016. Until then feel free to contact us on +61 3 8651 4500 or send us an email if you have any queries about this surcharge.
We are a professional services company that specialises in cross-border financial and immigration advice and solutions.
Our teams in the UK, South Africa and Australia can ensure that when you decide to move overseas, invest offshore or expand your business internationally, you'll do so with the backing of experienced local experts.