Chancellor Rishi Sunak announced an extra £6 billion for the NHS but neglected to highlight that the government plans to increase the immigration health surcharge to do this. We unpack the how, what and why of the NHS surcharge increase.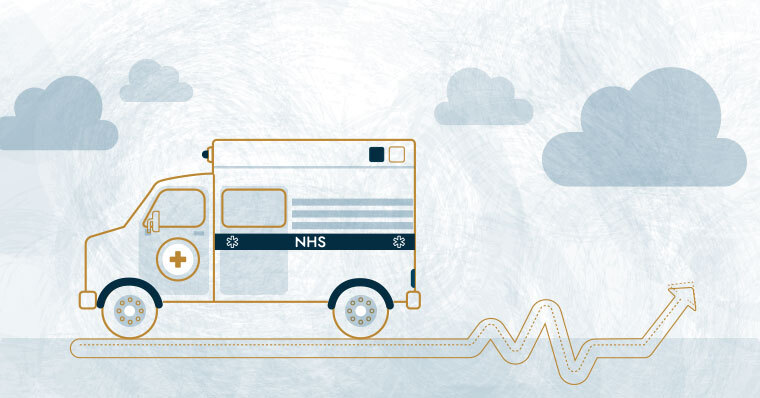 NHS surcharge
If you're coming to the UK for longer than six months you will need to pay the mandatory immigration health surcharge (IHS). The IHS will be part of your UK visa application.
You need to pay the total amount upfront with your visa application, so that it covers you for the duration of your visa. For example, if your visa is valid for five years, you must pay a health surcharge of £2,000 when you apply for your visa.
How does the surcharge system work?
The IHS is used to fund healthcare from the UK's National Health Service (NHS). By paying the IHS you gain access to NHS services while you're living in the UK – you won't have to pay to visit a doctor, healthcare centre or hospital. You'll still need to pay for specific healthcare services like prescriptions, eye tests or dental procedures.
Once your visa has been granted and you have paid the surcharge, you can register for NHS at any GP practice that suits you. You will need to complete and return a registration form, available at your chosen practice.
Who is eligible for the NHS?
The NHS is available to anyone in the UK who needs it, whether you're visiting, moving to the country or residing there permanently.

Everyone has access to the NHS, however, there may be additional charges for certain consultations and hospital visits. This will depend on your individual circumstances and medical needs.
How much the new surcharge levy will cost you
Following the Chancellor's Budget announcement on 11 March 2020, the IHS will increase from £400 to £624 per year. The discounted rate which applies to students, their dependants and Youth Mobility Scheme applicants will increase from £300 to £470 per year. The surcharge will also be set at £470 for all children under the age of 18.
Do you need to pay?
You do not have to pay the surcharge fee if you are an asylum seeker or if you have a family member who is an EU national.
Immigration health surcharge refunds
Should your visa application be unsuccessful, or you withdraw your application, the fee will automatically be refunded into the account the payment was made from. If your visa is approved but for a shorter period than you applied for or if any dependants on your visa are refused, you will get a partial refund.
What is the impact of the increase on businesses?
Employers sponsoring immigrants who pay this charge on behalf of their workforce will need to budget for this substantial increase in overall cost.
When will the increase come into effect?
The UK government has announced that the IHS will increase effective October 2020. We encourage employers who may be affected to contact our specialist for case-specific advice.
---
If you need help with your visa application, speak to one of our immigration consultants on + 44 (0) 20 7759 5330 or email us at immigration@sableinternational.com.
We are a professional services company that specialises in cross-border financial and immigration advice and solutions.
Our teams in the UK, South Africa and Australia can ensure that when you decide to move overseas, invest offshore or expand your business internationally, you'll do so with the backing of experienced local experts.