Portugal and Ireland are tied for the world's fifth most powerful passport, both allowing full freedom of movement throughout the EU and visa-free travel to 187 countries. One of the benefits of becoming a citizen of a country with a strong passport is the ability to travel with less hassle. Here's how you can apply for these passports through investment.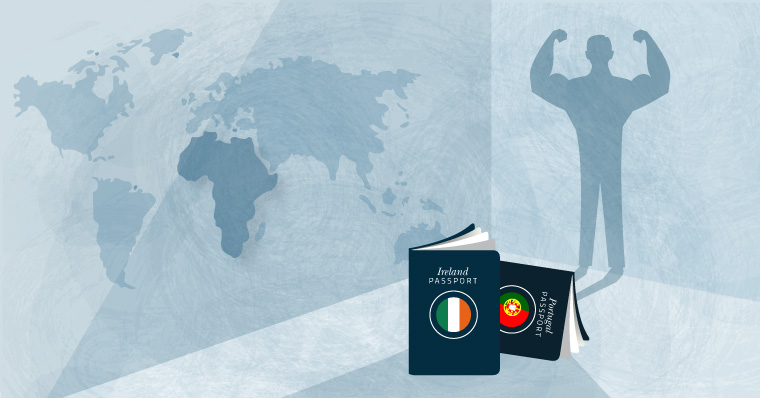 Every three months, exclusive data from the International Air Transport Association (IATA) is analysed and an updated global ranking of passports is released, highlighting how many countries holders of these passports can travel to without obtaining a visa prior to their departure.
The top spot on the list is held by the countries with the most visa-free travel destinations. Japan and Singapore lead in the first and second quarters of 2022 with 192 countries while Afghanistan sits at the bottom with 26 countries. Visa on arrival, electronic travel authority (ETA) and visitor's permit countries are included in the rankings. While this may not be the same as visa-free travel, it's included in the scores as these methods are still easier than normal visa applications and do not require pre-departure government approval and long waiting times.
What does the passport ranking mean for Irish and Portuguese passport holders?
The most desirable benefit of a strong passport is global mobility. Traveling visa-free means that all you need to do to enter the country is have a passport that is valid for at least the next six months. Visas on arrival, while still visas, have eliminated the bureaucracy of regular visas. Most of the time, you'll be in the same, shorter, line as someone who does not need a visa and at the end of the queue, you'll pay a small fee and hand in some paperwork. ETAs are simple online applications that often have their results returned within a day.
Where can I travel on Portuguese and Irish passports?
Portuguese and Irish passport holders have easier or unrestricted access to destinations such as:
The European Union and Schengen Area
Australia
Hong Kong
Japan
Singapore
Most of South and Central America including Brazil
South Korea
United Arab Emirates
United States
The UK*
*A Portuguese passport allows visa-free travel to the UK for 90 days for every 180-day period for travel and leisure purposes. Irish passports, through a common travel agreement with the UK, allow you permanent residency status to live and work in the UK in addition to travel.
Portuguese residency-by-investment: The first step to Portuguese citizenship
A popular route to Portuguese residence, and eventually citizenship, is through the Portuguese Golden Visa programme. Recently ranked the world's most important residency-by-investment programme, Portugal requires a minimum investment of €280,000 and you only need to spend 35 days in the country over the Golden Visa's five-year duration.
Once issued, Portuguese residency through investment allows you visa-free travel to Portugal and the European Schengen Area. You may also live, work or start a business in Portugal and you, and your children, can study there.
How to get the Portuguese Golden Visa
This entails a financial investment into Portugal as outlined by the three most popular investments we can assist with:
Property investment (low density area)
Property investment (specified areas)
Private equity fund investment
Low density area property investment
The cheapest of the three options, this route requires the property to be 30 years or older and within an urban regeneration zone. The minimum investment amount is €280,000 which includes the value of the property, and the rehabilitation works.
Property investment in specified areas
This route requires a real estate investment into a property valued at a minimum of €500,000. Multiple properties can be purchased to reach this amount and all property can be rented out. All property must be in the interior or on the islands of Madeira and Azores. The property cannot be in Lisbon, Porto or the Algarve.
Private equity fund investment
This requires investment funds or venture capital of €500,000 or more dedicated to the capitalisation of companies. At least 60% of the funds need to be invested into commercial companies located within the national territory.
See also: Important changes coming to Portugal's Golden Visa.
How to get a Portuguese passport
Once you have held a Portuguese Golden Visa for five years, you may be eligible for permanent residency and citizenship. After becoming a Portuguese citizen, you can apply for a passport. There are other requirements to becoming a Portuguese citizen such as:
If you meet the requirements and obtain Portuguese citizenship, you may apply for your Portuguese Identity card and a passport.
See also: Portugal's Non-Habitual Residence programme: Tax-free income.
Irish residency-by-investment: Ireland's Investor visa
Ireland has a residency-by-investment programme that can lead to citizenship through naturalisation. The Irish Immigrant Investor Programme (IIP) offers residence to families who invest in the country's rapidly growing economy.
Investment fund
The most popular option is the investment into an Approved Investment Fund, which provides for the return of the capital investment sum after the investment holding period.
At Sable International, we partner with the best government-approved investment fund that is authorised and regulated by the Central Bank of Ireland.
This is a low-risk, hands-off investment option which requires a minimum investment of €1 million into a government-approved Investment Fund for a minimum of three years. In practice, most investment funds require a five-year investment commitment.
To qualify, an applicant must be over 18 years of age, be of good character with a clean criminal record, be a non-EEA national and must be able to demonstrate a personal net worth of at least €2 million.
See also: Seeking residency by investment? The advantages of Ireland's programme.
How to get an Irish passport
To obtain Irish citizenship through naturalisation, you must have had "continuous reckonable residence" in Ireland for five out of the nine years leading up to your citizenship application. For a year to count as continuous reckonable residence, you must reside in Ireland for the majority of each calendar year. Additionally, you cannot have been out of Ireland for more than six weeks in the 12-months prior to lodging your citizenship application.
You may apply for Irish citizenship on behalf of your child once you have been granted citizenship through naturalisation.
What the future holds for Ireland's and Portugal's passports
It is unlikely that the global mobility scores of these passports will decrease soon. Both countries have held a stable position in the global ranking, remaining at sixth or higher in the yearly rankings over the past 10 years. Both countries also have stable economies with Ireland being one of Europe's fastest growing economies. Having residency or citizenship in these countries is a great "plan B" to ensure your options for the future are open. Residency-by-investment programmes give you the option to remain in your home country with the added benefits of a second residency and immigration at a later stage.
How we can help you obtain residency-by-investment
Our investment migration team works with local specialists to provide our clients with the best advice and to ensure your investment will be in safe hands. We remain with you through the entire process and assist you in:
Identifying the best programme
Identifying the best investment option
Guidance on what documents you will need
When to apply to retain your original citizenship (if applicable)
Devising an exit strategy should you need one.
We have years of experience and a 100% success rate with all citizenship and residency-by-investment applications.
---
We can help answer your questions and choose the best investment option for you and your family. Get in touch with an investment migration consultant at im@sableinternational.com or goldenvisa@sableinternational.com for Portuguese residency-by-investment queries, or call us on +27 (0) 21 657 1584.
We are a professional services company that specialises in cross-border financial and immigration advice and solutions.
Our teams in the UK, South Africa and Australia can ensure that when you decide to move overseas, invest offshore or expand your business internationally, you'll do so with the backing of experienced local experts.