Portugal is consistently voted as one of the safest countries in the world and offers a low-cost, high standard of living in a stunning Mediterranean climate. The Golden Visa is a great way to get a second citizenship, but there are many other options available if you wish to live, work and study in Portugal.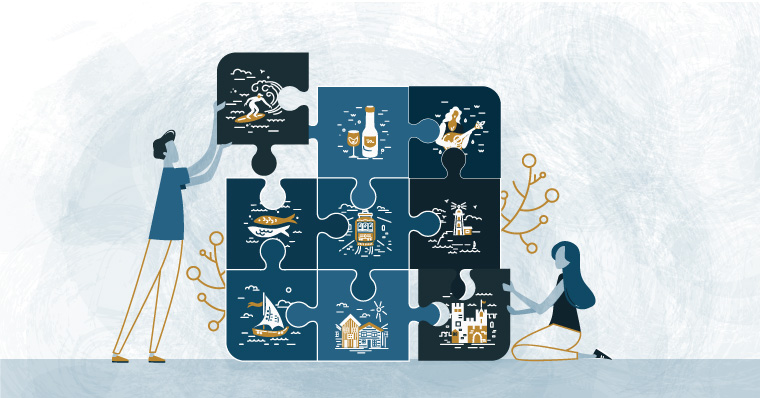 The weather, lifestyle and low cost of living are some of the main reasons Portugal keeps growing in popularity. The country has a lot to offer: beautiful scenery, easy access to other European cities, tax incentives and so much more.
In 2020, just over 662,000 expats called Portugal home. The Golden Visa remains a popular route for many as it allows you to live and work in Portugal, travel visa-free throughout Europe and eventually obtain permanent residency and citizenship. From 2012, when the programme was established, until June this year, 9,834 Golden Visas have been granted.
To qualify for the Golden Visa, you must make a property investment, which doesn't suit everyone's current or long-term plans. But that isn't the only way to move to Portugal. The country offers visas for those who want to work, study, run their own business, reunite with a family member or retire.
Types of Portuguese visas
Portuguese visas are categorised into two main categories:
Short Stay visa
Long stay visas
Short Stay visa
If you want to visit Portugal for under 90 days and are a citizen of a country that requires a visa to visit Portugal, you will need to apply for a Short Stay Visa, usually referred to as a Schengen visa. This visa allows you to enter Portugal for the purposes of tourism, family visits, short-term business, temporary work and airport transit.
Long stay visas
There are two types of long stay visas: temporary stay (more than 90 days but less than one year) and residency (over one year).
You'll need to apply for a long stay visa if you're moving to Portugal to study, work or complete an internship. With this visa you can leave and re-enter Portugal as often as you wish.
Moving to Portugal on a work visa
Who needs a work visa?
Whether you need a Portuguese work visa depends on your nationality and your length of employment. If you're from the EU, EEA or Switzerland, you do not need to apply for a work visa. However, if you're planning on staying longer than six months, you'll need a Residence Certificate (Certificado de Registo).
Non-EU citizens will need a Portuguese work visa. Applying for a visa is a three-step process. You must first have a job offer, or you can be married to a Portuguese citizen. Most jobs must be advertised for 30 days to Portuguese and EU citizens first before it can be filled by non-EU nationals.
Once you have a job offer, your employer must apply for a work permit. Once your work permit has been granted, you can apply for your work visa.
Types of work visas
Portugal offers short-term work visas and long-term work visas. You must apply for a short-term visa if you'll be employed for less than six months. A long-term work visa will be required if your stay exceeds six months. A major benefit of the Portugal work visa is that it gives you access to Schengen European countries, so you'll be able to explore the rest of Europe whenever you like.
Long-term visa holders must apply for a Portuguese residence permit after they've arrived in the country.
Applying for your residence permit
There are different types of residence permits. Which one you apply for depends on your circumstances.
Standard residence permit for employees
Most people who move to Portugal on a work visa will apply for this permit. It's valid for one year and can be renewed for up to five years, after which you can apply for permanent Portuguese residence.
Permit for highly skilled migrants
This permit is for scientific researchers, academic teachers and those who work in highly qualified professional activities. It's also valid for one year and renewable for up to five years.
EU Blue Card
The EU Blue Card is a residence permit that allows highly skilled non-EU nationals to live and work in the EU. You can bring your family members with you, and they will have the same freedom of movement rights as you.
To be eligible for an EU Blue Card, you must meet the profession level requirement, which includes a university degree and five years continuous professional work experience in your field. Your salary must exceed the average rate in Portugal (or the EU country you're moving to) by 1.5 times or 1.2 times for professions in shortage.
The card is valid for three years and can be renewed if your employment contract is extended.
Moving to Portugal on a study visa
This visa is only available for students who wish to attend a Portuguese secondary school or university. To apply for this visa, you will need proof of acceptance at a Portuguese educational institution and evidence that you meet the admissions criteria if you intend on completing a higher level academic course.
Family reunion visa
Non-EU citizens who wish to join a family member living in Portugal must apply for a family reunion visa. You can apply if you're a:
Spouse or legally recognised partner of someone living in Portugal
Dependant child, this includes adopted children and children of the spouse/partner
Dependant parent, including parents of the spouse
Dependant minor sibling
How long you can stay in Portugal depends on the type of permit your relative in Portugal has. If they are on a temporary residence permit, your family visa will be valid for the duration of their stay (up to five years). If your relative has permanent residence or citizenship, your visa will be valid for two years and can be renewed.
The family reunion visa allows you to work and study in Portugal.
Retirement visa (D7 visa or Passive Income visa)
To be eligible for a Retirement visa, you need to receive and live off a steady income from your pension or savings. When you apply, you need to show proof of income and will need have a minimum income of:
Main applicant: 100% of the minimum national wage x 12 months = currently €7,200 per year
Second adult applicant: 50% of the minimum national wage x 12 months = currently €3,600 per year
Dependant children: 30% of the minimum wage per person = currently €2,292 per year
The D7 Visa will give you the right to live and work in Portugal, travel Schengen Europe visa-free, access to education and healthcare facilities and qualify for permanent residency or citizenship in Portugal in five years.
Tech visa
With the aim of growing their tech workforce, the Portuguese government launched the Tech Visa. Certified Portuguese companies who are part of the Tech Visa programme can employ suitably qualified non-EU citizens under this visa. The requirements of the visa are the following:
You're a non-EU national and a non-EU permanent resident
Fulfilled tax obligations in your country of residence
No criminal record
18 years and older
Have a minimum level 6 qualification (university degree) according to the International Standard Classification of Education 2 (ISCED), or a qualification level 5 (technical course) according to ISCED, plus five years of experience
Proficiency in Portuguese, English, French or Spanish
Companies in the programme include Siemens, Mercedes-Benz, Huawei and Bosch.
Startup visa
The Startup visa allows international entrepreneurs to open an innovative company in Portugal. To be eligible you must meet the following requirements:
Intend to develop business activities to produce innovative goods and services
Open or relocate companies and/or projects focused on technology and knowledge, with a perspective of developing innovative products
Have the potential to create qualified employment
Have the potential to attain, five years after the incubation period, a turnover over €325,000 per year, and/or assets valued over €325,000 per year
Why the Golden Visa programme remains popular and successful
The Golden Visa, or Golden Residence Permit Programme (GRPP), is a residency-by-investment programme that gives you residency rights in Portugal. With this visa, you and your family can live and work in Portugal as well as travel visa-free throughout the European Schengen Area.
The programme's most popular routes are:
1. Property investment of €280,000
The property must be located in a qualified low-density area and either:
Over 30 years old, or
Within an urban regeneration zone
2. Private Equity Fund investment of €350,000
In the acquisition of investment funds or venture capital dedicated to the capitalisation of companies
60% of the funds need to be invested into commercial companies within the national territory
*Minimum investment increases to £500 000 from 1 January 2022
3. Property investment of €500,000
Real estate investment into a property with a minimum value of €500,000.
Multiple properties can be purchased
All property can be rented out
Properties can be purchased anywhere in national territory including Madeira and Azores before 2022
From 2022, the greater Lisbon, Porto and Algarve regions will no longer be available as qualifying investments. You will need submit your application by December 2021 to qualify.
A major benefit of the Golden Visa is that once you're in the programme, you don't need to worry about your employment status or renewing your visa. You can choose to remain in your current country of residence or move to Portugal when you're ready. You only need to spend an average of seven days a year in Portugal over a five-year period.
After five years, you and your family can qualify for permanent residency and citizenship with the added benefit of owning an overseas investment or property that you can either live in or rent out for additional income during the busy tourist season.
The main benefits of the Golden Visa programme include:
The right to enter and stay in Portugal with no additional travel visa
The right to live and work in Portugal
The freedom to travel across the Schengen Area without an additional travel visa
The right to benefit from family reunification and add family members to the Golden Visa programme
The right to apply for permanent residence or for citizenship after five years
The purchase of real estate valued at EUR 350,000 or EUR 500,000 has proven to be the most popular investment option.
---
Speak to our Golden Visa experts about starting your journey to Portugal and making the right property investment decision. Email us today at goldenvisa@sableinternational.com or call +27 (0) 21 657 1584.
We've created a relocation service that guides you through every facet of your move to Portugal. Email or call us on +27 (0) 21 657 1530 (SA) to find out more about this service.
We are a professional services company that specialises in cross-border financial and immigration advice and solutions.
Our teams in the UK, South Africa and Australia can ensure that when you decide to move overseas, invest offshore or expand your business internationally, you'll do so with the backing of experienced local experts.