Portugal has become an immigration hotspot thanks to its maritime climate, growing economy and friendly tax regime. For people moving with children, deciding on where to send them to school can present quite a few challenges. Make it easier with our guide to education in Portugal.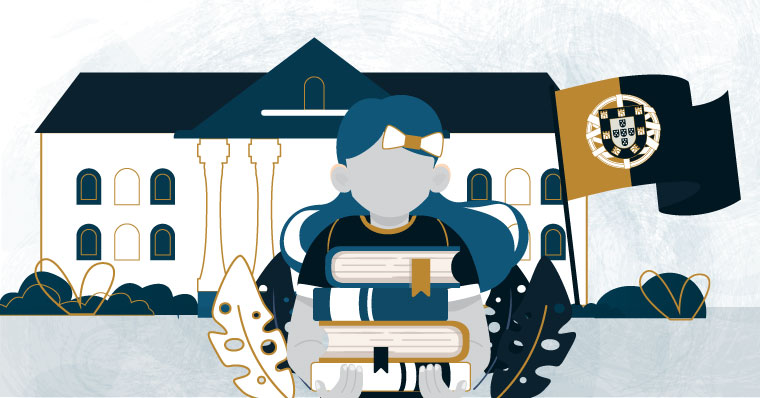 This blog was first published in March 2019 and has been revamped and updated for accuracy and new information.
Whether you're going over on a Golden Visa or considering a move to Portugal in the future – if you have children under 18, they're going to need to be in school. Education systems vary from country to country, and although there may be similarities, it's nice to know exactly how everything works.
The Portuguese education system
Schooling in Portugal is compulsory from ages six to 18, and the entire education system is governed by two departments. The Ministry of Education (Ministério da Educação) handles primary and secondary education, while the Ministry of Science, Technology and Higher Education (Ministério da Ciência, Tecnologia e Ensino Superior) deals with higher education such as universities and polytechnics.
Children aged between three and five can attend pre-school. It's optional, but it may be a good idea if you're wanting your kids to learn Portuguese. Exposure to the language at a young age will have them fluent in no time.
See also: Golden Visa stays – Portuguese citizenship-by-investment still viable
Stages of education in Portugal
Education

Level

Grade

Age

Pre-primary
Kindergarten
N/A
3-5
Primary (basic education)

First cycle

Second cycle

Third cycle

1-4

5-6

7-9

6-10

10-12

12-15

Secondary

Academic focus (professional)

Practical focus (vocational)

10 - 12

15-18

Higher

University

Polytechnic
Primary education
When children are six, they must enrol in primary school which consists of three "cycles" or stages of basic education. The first cycle (Ensino Básico – 1º Ciclo) is from grade one to four, the second cycle (Ensino Básico – 2º Ciclo) is from grade five to six, and the third cycle (Ensino Básico – 3º Ciclo) is from grade seven to nine. After children finish the third stage of primary education, they're given a certificate of completion.
Secondary education
Secondary education in Portugal is from grade 10 to 12 and gives students a choice of two paths. They can opt for a more academically focused program or go a more practical route with vocational training.
The three-year vocational program equips students with the skills necessary to start working in a trade field of their choice after graduation.
The public school your children are placed in depends on where you live, but there are some high performing public schools in both Porto and Lisbon. Top performing private schools in the country include Our Lady of the Rosary College (Colégio Nossa Senhora do Rosário) in Porto and Manuel Bernardes College (Colégio Manuel Bernardes) in Lisbon.
Higher education
Universities and polytechnics provide higher education in Portugal. The difference between the two institutions is that universities deal with more academic subjects such as mathematics and medicine, while polytechnics provide vocational training in subjects like business or nursing. As with Portuguese schools, there are both public and private options available.
Top ranking universities include both the University of Porto (Universidade do Porto) and the University of Lisbon (Universidade de Lisboa).
International schools
There are many international schools in Portugal. These are an alternative if you're looking for an international education for your children. Most schools follow the UK national curriculum with classes in English, but there are other choices available depending on what you're looking for. You can also find curriculums from the United States, Germany, France and the International Baccalaureate (IB).
Some options in and around Lisbon include Astoria International School, St. Julian's School and St. Dominic's International School. If you're considering moving to Porto, take a look at Oporto International School.
See also: Portugal ranks fifth for the most powerful passport – How to use residency-by-investment to secure one
Portuguese school fees and admission
Portuguese public schools are free from start to finish but private schools do charge fees. These can vary from around €400 to €550 per month. There are also other charges to take into consideration, such as school meals, uniforms and enrollment fees.
International schools can get quite costly as they're free to set their own fees. These vary according to the school and the grade and can be anything from €6,500 up to €22,000 per year.
If you choose the public route, your children will be placed in the school nearest your home or work. To enrol you will need to supply:
Your child's ID, passport, or certificate from your home embassy
A registration form (provided by the school) with a passport photo
Proof of necessary vaccinations, eye and hearing tests from a health centre
International schools may have other requirements, such as placement tests and previous school records.
These are the admissions for some of the best international schools in Portugal:
| School | Curriculum | Grades | Area |
| --- | --- | --- | --- |
| St Julian's International School | British / Portuguese / IB | 1-12 | Sintra |
| Carlucci American International School of Lisbon (CAISL) | American / IB | 1-12 | Sintra |
| Oeiras International School | IB | 1-12 | Oeiras |
| St Dominic's International School | IB | 1-12 | Oeiras |
| Santo Antonio International School | British / Catholic | 1-12 | Oeiras |
* The Porto and Algarve areas are also popular with expats as school destinations.
Portugal's school calendar and hours
Each region in Portugal has different school hours and holidays, while international schools work according to the school calendar of their curriculum and country on which they're based.
During primary education at the basic first stage, children attend school from 09:00 to 15:30. In the second and third stages, their day is from 08:45 to 16:45.
The Portuguese school calendar is divided into three terms, unlike the South African school system which consists of four terms. Exact dates vary, but school usually begins mid-September and runs until mid-December. After Christmas, school starts in the beginning of January and runs until Easter break (late March to early April). The third term starts in April and ends at the end of June.
Public, private or international?
Deciding on a public, private or international school depends on your social and financial circumstances. All instruction and classes in both public and private schools will be in Portuguese.
If your children are young, exposing them to Portuguese at school will help them pick up the language quickly. In addition to this, the curriculum is designed to prepare them for Portuguese universities or polytechnics. If you intend to stay in the country, this may be the way to go.
Private schools may cost more, but they have benefits such as smaller classes and higher budgets for extra-curricular programs and facilities. However, they often have a faith-based foundation, which may affect your decision.
International schools come at a premium and use various international curriculums. They provide education in English, or other languages depending on the school. This can get costly, but if your child is already halfway through their schooling when you move to Portugal it may better to continue in a familiar environment.
Learning Portuguese
If you want to enrol your kids in a Portuguese public or private school, they're going to have to learn the language. This can be easy if your children are very young – they'll pick it up by themselves. But if you have teenagers it might be a bit of a challenge. In this case, an international school might be a good plan. There are numerous ways to learn Portuguese both in and outside of Portugal; from private tutors to language schools – you're never without options.
Thousands of people are investing and moving to Portugal with their families every year. A great residency by investment program, combined with a safe, beautiful environment and high living standards makes Portugal the place to be.
---
Interested in moving to Portugal? Learn about Golden Visa Portugal to discover your best route to residency – and European citizenship. Speak to an expert consultant by emailing us at goldenvisa@sableinternational.com or calling +27 (0) 21 657 2141
We are a professional services company that specialises in cross-border financial and immigration advice and solutions.
Our teams in the UK, South Africa and Australia can ensure that when you decide to move overseas, invest offshore or expand your business internationally, you'll do so with the backing of experienced local experts.