In the past five years emigration has tripled among South African home owners. We've helped quite a few of them with their visa and finances but one question we often hear is: What's the most cost-effective way to get my belongings into the UK? We look at some of the best options below.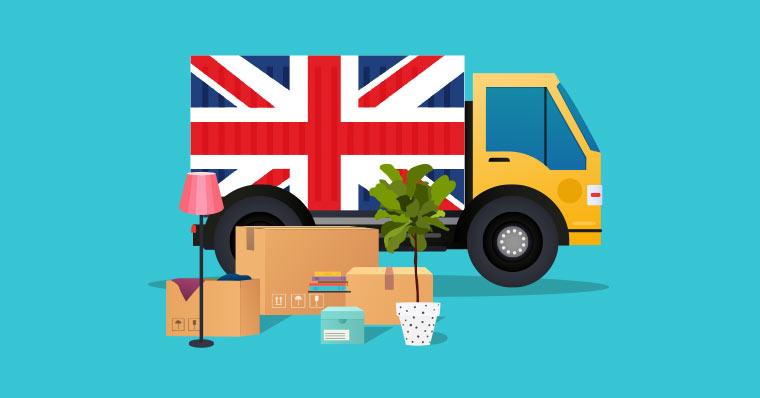 Looking at your options
From a plethora of shipping companies to the wide range of transport options, moving your possessions to the UK can seem like a herculean task. When relocating to the UK do you move your things yourself or hire a moving company? It usually comes down to time vs. cost. The quicker you need things to happen, the more you're going to pay. If this is a factor for you, air freight options may suit your requirements better than sea shipping.
Other considerations include having to pay customs, shipping options, how long your belongings will take to arrive and, one of the biggest factors, the cost. You will be able to find better rates for moving larger items, but this may only be available with certain forms of transit.


Moving and customs
If you are moving to the UK from outside the EU, you may be able to claim tax exemption on some charges. You will need to complete a Transfer of Residence (ToR1) form so that customs officers can calculate how much you may owe. You can check the UK government's guide for full details of customs charges when shipping to the UK.


Keep it tax-free
You can import all your household goods duty-and-tax-free if:
You've lived in a non-EU country for at least 12 months and have had the goods in your possession for six or more months
You did not receive these goods under a duty or tax-free scheme
You don't intend to sell, lend or dispose of the goods in the UK during the following 12 months
You're moving your home to the EU
Air freight
Sending items to the UK by air freight can be a speedy and relatively painless option. However, although this may be the quickest route it's also the most expensive as you are charged on weight. It is best used for smaller loads or for items you will need soon after you arrive.
Shipping to the UK
One of the key benefits of shipping by sea is the cost. This makes it the most popular method of transporting goods and materials internationally. If you're not going to fill an entire container you can opt to share space with other movers. This will save you a considerable amount on costs, but the downside is that it will take much longer. It can take up to several months door-to-door.
Comparing rates
Freight forwarders charge based on the volume of your goods, multiplied by the distance they'll need to travel. You can use an online freight calculator to get an estimate of the cost of shipping to the UK from South Africa.
Your actual quote will depend on many different factors but, to estimate, a 20-foot container is large enough to carry contents of a three-bedroom house and costs between R27,000 and R41,000 for a full container load (FCL). A 40-foot container is more suited to a four- or five-bedroom house and can cost anywhere between R95,000 and R110,000 for an FCL. If you only need to send a less than container load or (LCL) then you will be able to save money by grouping your items with other customers.
The future of moving
Seven Seas Shipping is second to none if you're looking for cost and convenience when shipping to the UK. They understand that needs can differ depending on the kind of move and have built their service around this. It can be stressful to relinquish control and wait for your belongings to arrive at the destination safely, which is why you need an experienced and trusted shipping partner.
Seven Seas tailor their services to suit your budget and storage requirements. These relocation specialists will assist in moving any excess baggage, personal belongings and household furniture to anywhere in the world. Their innovative MoveCube service provides you with your own, personal shipping container, which is perfect for the hands-on mover. MoveCubes are offered in three sizes (each smaller than the size of a standard shipping container) and are designed for both international and domestic moves.
Your MoveCube is delivered to your door where you can pack it yourself. It's then collected and shipped to its destination. With Seven Seas, you get the benefit of minimal packing costs paired with the budget-friendly option of sharing a container and the ability to be hands-on throughout the removal process.

If you're emigrating to the UK visit Seven Seas Shipping for an instant quote.
Are your products insured?
One thing that can offer peace of mind in an otherwise chaotic time is making sure your goods are sufficiently insured while you're moving. Whether you've opted for air freight or shipping, we recommend taking out insurance. Different companies have different rules. Some refuse to insure your belongings if they haven't packed them (this is most commonly applicable if you use a shipping freight service).
Accidents can happen and you must check with your insurer what terms and conditions apply. If your policy only has limited cover, it's possible to take out a household goods in transit policy which ensures you are covered for the move.
Relocating to the UK involves so much more than just moving household items. Our team of experts also offer UK business relocation and make applying for your National Insurance number or opening your UK bank account worry-free.
---
Ready to move? Contact our relocation experts about moving your belongings and getting your life in the UK started. Give our team a call on +44 (0)20 7759 7536 to find out how we can assist.
We are a professional services company that specialises in cross-border financial and immigration advice and solutions.
Our teams in the UK, South Africa and Australia can ensure that when you decide to move overseas, invest offshore or expand your business internationally, you'll do so with the backing of experienced local experts.