If you're a single parent and want to bring your children with you on your visa, you will need to prove that you have sole responsibility for them. We take a look at what this means and what you can do in the case where you don't have sole responsibility.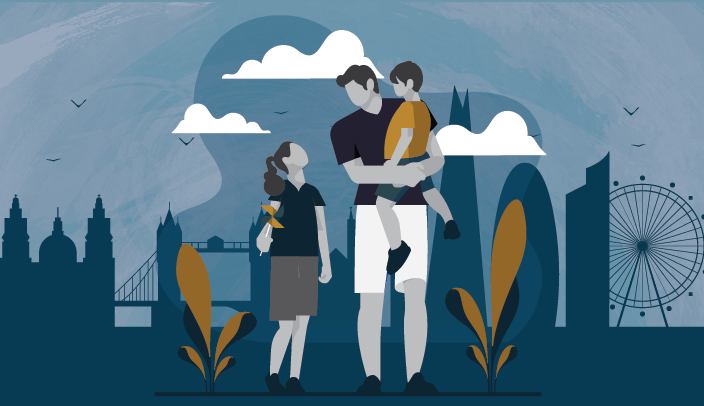 Parents applying for UK visas are allowed to bring their children along as dependents as long as the child:
is under the age of 18
will be adequately accommodated
will be financially maintained
When there is only one parent who is immigrating, and the parent would like to have their child immigrate with them, they are required to have sole responsibility for their child.
Historically and up until around five years ago, most applications for children to join a parent in the UK, where one parent had sole custody, were automatically approved, without further enquiries.
Now, however, the Home Office needs to see evidence that the sponsoring parent has "sole responsibility" for the child and not just custody.
See also: How much a UK visa will cost in 2023
What is sole responsibility?
The UK's immigration rules state that a parent will have sole responsibility when "one parent has abdicated or abandoned parental responsibility, and the remaining parent is exercising sole control in setting and providing the day-to-day direction for the child's welfare.
Examples would be if one parent has passed away, or if a court has decided to remove parental responsibility from a parent due to abuse or abandonment.
A sponsoring parent must be able to show that they have been solely responsible for exercising actual parental care for the child for a substantial period and has made all the important decisions regarding the child's upbringing.
As an example, if the sponsoring parent and child are separated, the child will normally be expected to have been in the care of the sponsoring parent's relatives, rather than the relatives of the other parent. An application would normally be refused if the child has been in the care of the other parent's relatives and the other parent lives nearby and takes an active interest in the child's welfare.
Factors to consider when assessing sole responsibility
There are several factors that the Home Office will consider when assessing if you have sole responsibility of your children, including:
When did the parents separate?
Have the parents formally divorced? If yes, what was the date?
Has any Custody Order or Residence Order been issued by any court in the UK or overseas?
Which parent has the child lived with, and for what periods since the separation?
Who provides, and in what proportion, the financial support for the child?
Who makes the important decisions about the child's upbringing, such as where and with whom the child lives, the choice of school, religious practice etc.?
If the child does not live with the parent claiming to have sole responsibility, what is the degree of contact maintained between that parent and the child?
What part of the child's upbringing is played by the parent not claiming sole responsibility (if any)?
Does the parent not claiming sole responsibility have any objection to the child staying in the UK with the other parent?
If the child does not live with either parent, who does the child live with?
Sole responsibility is not legal custody
It is important to understand that sole responsibility is not the same as legal custody. For example, if you are the only parent to provide financial support to the child, this does not grant you sole responsibility.
The way in which sole responsibility is interpreted under UK immigration law differs from how it is interpreted under family law. As a result, it is possible that even though you have sole responsibility for your child according to family law, you may not be deemed to have sole responsibility under UK immigration law when you are applying for a UK visa. Sole responsibility is what the situation is in practice and not only what the family court papers say.
According to the Home Office guidance, they may refuse an application where:
Both parents are involved in the child's upbringing even if only one has sole legal custody.
There has been a recent change in parenting arrangements which may suggest an attempt to get around the immigration rules.
There is insufficient evidence to prove they have sole parental responsibility.
These applications can be complex and often require an assessment prior to application. Submitting the correct and sufficient documentation as well as a detailed cover letter explaining the rules and how they have been met is essential for a successful application.
Evidence to prove sole responsibility
You may be asked to provide several items of evidence of your sole responsibility for your child, including:
Your child's birth certificate
Evidence that the other parent no longer has parental responsibility for their child (e.g., death certificate, court order/letter, or another official document)
Certificate of divorce or dissolution
Evidence of the applicant's immigration status if already in the UK (e.g., passport, visa, biometric residence permit).
Evidence that the applicant has and continues to make important decisions regarding the upbringing of their child (e.g., a letter from their school or medical doctor).
What if you don't meet the sole responsibility requirement?
If you do not meet the Home Office's requirements to qualify as a person with sole parental responsibility for your child, you may still be able to bring them to the UK. This may be possible if you can show that there are "serious and compelling family or other considerations" which would make the exclusion of your child from the UK undesirable and that "suitable arrangements" have been made for their care.
Determining what constitutes "serious and compelling family or other reasons" is dependent on the specific circumstances of each case and an examination of all the available evidence.
In making this determination, various factors will be taken into account, such as the emotional and physical condition of the sponsoring parent in the UK, as well as any mental or physical incapacity of the non-sponsoring parent.
---
Cases that involve sole responsibility are complex and you will need a knowledgeable caseworker to guide you through this process. Our consultants stay up to date on all the changes to UK immigration rules.



We are a professional services company that specialises in cross-border financial and immigration advice and solutions.

Our teams in the UK, South Africa and Australia can ensure that when you decide to move overseas, invest offshore or expand your business internationally, you'll do so with the backing of experienced local experts.

;