If you wish to study in the USA, community colleges provide a more affordable and, often, easier route to earn your degree. Our Study Abroad team hosted a webinar with Hillsborough Community College where they shared a guide to how this system works.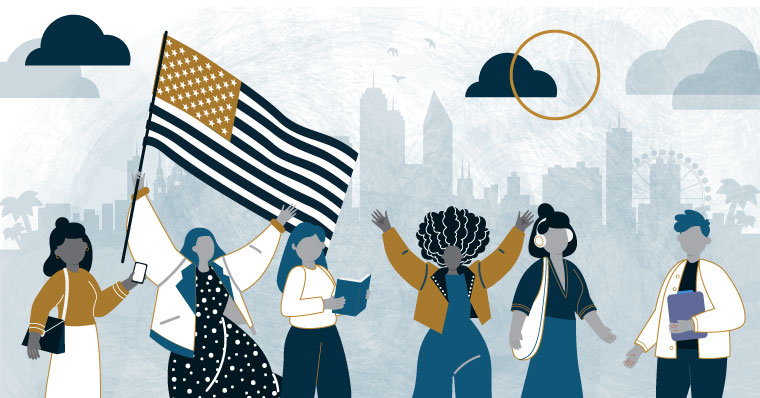 What is a community college?
In the United States, community colleges are publicly funded two-year institutions that provide tertiary education (continuing education) up to associate degree level. They often serve as a stepping stone to university for students who plan on furthering their education.
Since a bachelor's degree in the US takes four years, you can start by studying at a community college and then transfer to a university as a junior student. This means you can take the same courses and classes at a fraction of the cost of a private four-year institution.
Workforce preparation is another benefit of attending a community college. They play an important role in preparing students for the job market by offering community programs such as CV help for job seekers.
As community colleges become more popular, they serve an increasing number of people both in the US and from abroad.
See also: Sending your kids to study abroad? Here's what you need to know.
Hillsborough Community College
Founded in 1968, Hillsborough Community College (HCC) is the fifth largest community college in Florida's State College System, serving more than 47,000 students each year at its five campuses, three centres and online platform. The school has an open admissions policy and offers a wide range of degrees and certificates in a variety of disciplines.
The campus is in Tampa Bay, a large natural harbour connected to the Gulf of Mexico on the west-central coast of Florida.
The Tampa Bay region has a growing population of over four million inhabitants. The city is known for its year-round sunshine, scenic beaches, vibrant cultural scene, excellent sporting programmes, and well-rounded higher education opportunities.
The city of Tampa is ranked as the second-best large US city for undergraduate students and has been listed as one of the top 10 safest metro areas in the United States.
2+2 Transfer Program
HCC encourages all international students to do the 2+2 Transfer Program. 2+2 is a university transfer plan that involves two years at HCC followed by two years at a traditional university. At the end of the four years, students obtain their bachelor's degree.
HCC has articulation agreements with all 12 public universities in Florida. An articulation agreement is when two or more academic institutions partner to provide a formalised pathway for student transfer. This means that HCC students are automatically admitted to any of the institutions the college has an articulation agreement with.
85% of HCC students who transfer to a four-year institution will transfer to one ranked in the top 50 in the US.
HCC holds a close partnership with the University of South Florida (USF). Students can opt to receive a conditional letter of admittance from USF upon admission to HCC. Your USF admission is finalised once you complete your associate's degree.
See also: Our student services.
Simplified admissions process
The admissions process at HCC is very simple. You are not required to take an SAT or ACT exam; HCC's only admissions requirement is that you are a high school graduate. You will be required to take an English language proficiency exam if you come from a country where English is not the official first language.
Optional Practical Training (OPT)
Optional Practical Training (OPT) is a one-year work authorisation in the US that you can do on the F-1 Student visa. An F-1 Student visa is issued to international students who are attending an academic program or English Language Program at a US college or university. You can do OPT more than once if you attend a community college first. If you go straight into university, you have to wait the full four years before doing a year of OPT on your F-1 Student visa.
See also: Everything you need to know about studying abroad (with the IELTS Podcast).
Work opportunities for international students on campus
These jobs can be scarce so it's not a good idea to rely on securing one as a source of income. Getting an on-campus job is not advised until after your first semester at HCC. This is so you can get an idea of the time management required in order to balance your campus life.
Smaller class sizes
The student-faculty ratio of 24-to-1 allows students to closely interact with their lecturers. HCC students are assigned to their academic adviser, who assists them in mapping out their education plan during their time at HCC.
International student housing at HCC
One factor that distinguishes HCC from other community colleges is that it offers secure on-campus housing. At Hawks Landing, HCC's student apartments, each student gets a private bedroom, private bathroom and they share a kitchen and living room area.
Cost of living for one full academic year
The cost of living for one full academic year for a student attending college in the state of Florida, specifically the Tampa Bay region, totals around $21,210. Should you wish to apply for an F-1 student visa, this is the minimum amount required to prove to the US embassy that you can afford to live and study in the United States. This amount must be reflected on a bank statement and can be provided by one or two sponsors. If you choose the option of two different sponsors, two separate bank statements need to be provided totalling the combined full amount.
The $21,210 does not need to be paid upfront. The only amount you will be required to pay upfront is the tuition for your first semester. This amount totals just under $5,000.
Cost of living breakdown: One full academic year (two semesters)
| Expense | Cost (USD) |
| --- | --- |
| Non-resident tuition and fees | $9,111.00 |
| Books and supplies | $1,000.00 |
| Housing and food | $8,055.00 |
| Health insurance (annual premium) | $1,294.00 |
| Miscellaneous | $1,750.00 |
| TOTAL | $21,210.00 |
*Disclaimer: 2022 costs are subject to change.
Academic pathways available to HCC students
Associate in Arts (A.A.) degree
The Associate in Arts (A.A.) degree is primarily intended to help you meet the requirements for transferring to a college or university's upper-division level to continue working toward a bachelor's degree.
Associate of Science (A.S.) degree
Associate in Science (A.S.) degrees are specialised two-year programmes offered in preparation for entry into certain industries. Some A.S. degrees transfer into universities, but it's advisable to check with an international student adviser if you intend to transfer.
College Credit Certificates
College Credit Certificates are one to two semester-long programmes that allow students to obtain a certificate without the commitment of a two or four-year degree. HCC currently offers four college credit certificate programs:
Entrepreneurship and Innovation
Business Management
Event Planning
Food and Beverage Management
See also: How to use studying abroad as a route to immigration.
The full interview can be found on our Study Abroad YouTube channel.
Are you interested in studying abroad at HCC? Our study advisers are qualified to help you with applying to various programmes and will assist you along the journey. Get in touch with us at sastudy@sableinternational.com or give us a call on +27 (0) 21 657 1543
We are a professional services company that specialises in cross-border financial and immigration advice and solutions.
Our teams in the UK, South Africa and Australia can ensure that when you decide to move overseas, invest offshore or expand your business internationally, you'll do so with the backing of experienced local experts.