If you are legally in the UK on a work visa, you may be able to switch to a partner visa from within the UK. The spouse visa offers some great benefits. Here's what you should know about the process.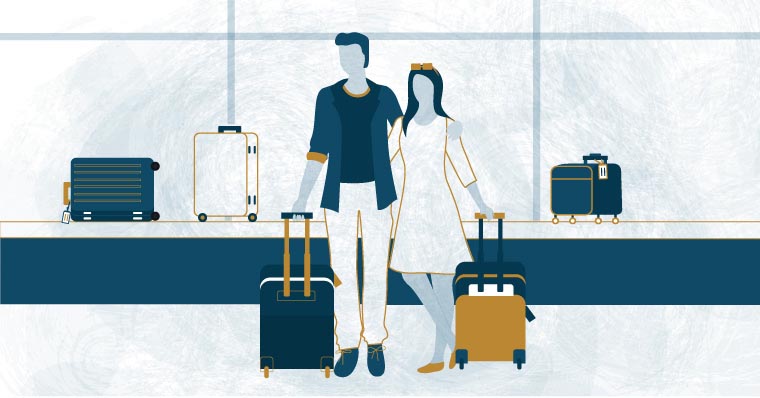 Officially known as a "family of a settled person" visa, a UK spouse visa or partner visa allows you to work and study in the UK, as well as bring dependants or family members into the country. You're not obliged to switch from a Skilled Worker visa (previously known as the Tier 2 visa) to a spouse visa when you marry a UK citizen. If you do decide to make the switch, you may apply from within the UK.
The spouse visa usually doesn't allow the holder access to public funds or other benefits. As such, you will need to pay the healthcare surcharge as part of your application.
What is the biggest advantage of being on a spouse visa?
The main advantage of the UK spouse visa is that it has no work restrictions. Unlike a work visa, where you are only allowed to work for your sponsored employer, you may be employed by anyone on a spouse visa.
In terms of income, the spouse visa is a more lenient route, with a combined (both you and your partner) financial requirement of £18,600. Whereas the work visa requires that you earn at least £25,600 per year or the "going rate" for your job.
Requirements for a spouse visa
To be eligible for a spouse visa you must meet the following requirements:
You and your partner must both be over the age of 18
Your partner must either be a British or Irish citizen, have settled status, indefinite leave to remain (ILR) or have settled status if they are from the EU, Switzerland, Norway, Iceland or Liechtenstein and have been living in the UK since before 1 January 2021
In addition, you must prove one of the following:
You're in a civil partnership or marriage that's recognised in the UK
You've been living together in a relationship for at least two years when you apply
You and your partner intend on living together permanently in the UK after you apply
The visa will allow you to stay in the UK for two years and six months.
How to switch to a spouse visa in the UK
You must apply from within the UK and will need to do so before your current visa expires. You must ensure that you meet all the requirements.
An experienced UK immigration advisor can help make your application process easier and increase your chance of success. They will be able to look at your work situation, your finances and your goals and help you make the right decision for your circumstances.
Can I continue working while switching visas?
As long as your current visa is still valid and you're not in breach of any immigration rules, the conditions of your visa will continue to apply while your application is being processed.
How long will the switch from a work visa to a spouse visa take?
If you use the standard service, you'll usually receive a decision within eight weeks of your application date. It may take longer if your circumstances are complex.
If you use the priority service, you usually get a decision by the end of the next working day after providing your biometric information if your appointment is on a weekday or two working days after providing your biometric information if your appointment is at the weekend.
Can I get a spouse visa extension?
Your visa can be extended for a further two years and six months. Once you've lived in the UK for five years, you may apply for ILR.
What to consider before making the switch
A major consideration when deciding whether or not to switch is how the change will affect your ability to obtain permanent residence or ILR. Changing from a work visa to a spouse visa would reset your qualifying period and you have to spend a further five continuous years on a spouse visa before you can be eligible for ILR.
---
Our consultants stay up to date on all the changes to UK immigration rules. If you have any questions about obtaining a UK visa or switching to a different visa, get in touch with us on +44 (0) 20 7759 5330 or at immigration@sableinternational.com.
We are a professional services company that specialises in cross-border financial and immigration advice and solutions.
Our teams in the UK, South Africa and Australia can ensure that when you decide to move overseas, invest offshore or expand your business internationally, you'll do so with the backing of experienced local experts.