If you have just graduated from university and you plan on living the UK after your graduation, we have some good news for you: As a non-UK citizen, you have a variety of options when it comes to picking a UK visa. By choosing the right visa, you can extend your stay and open the door to permanent residency and British citizenship. However, you need to know exactly which visas you can apply for before you make any unnecessary and potentially costly applications.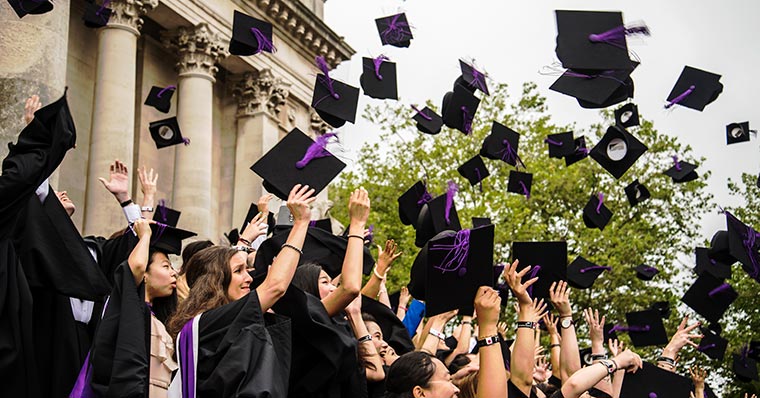 Planning your post-graduation steps
Under Tier 4 student visa rules, your initial student visa would have been granted for the period of your studies, plus an additional six months. The extra six months, known as the "wrap-up period", are there to allow students to attend their graduation ceremony and begin the process of packing up their life in the UK and heading back home.
If you want to continue living in the UK, these six months can be used to find a job and/or apply for a new visa. There are a variety of visas you can apply for and each has its own requirements and rules. Let's look at what your visa options are.
Get a job, get a work permit
The Tier 2 (General) work permit is the most common visa applied for by graduates of UK tertiary institutions. What's more, UK employees are more inclined to hire someone with a UK degree than an international graduate, because the hiring process is a lot more straightforward and cost-effective.
How so? Well, should an employer want to hire an international graduate, they would first need to conduct what is known as the Resident Labour Market Test. This test requires employers to first show that there isn't a suitable British candidate that is able to fill the role before hiring someone of foreign nationality who does not have a UK degree. The employer would also incur additional costs such as having to pay the Immigration Skills Charge.
When hiring a UK graduate, a UK employee does not incur any of the hassle or expense associated with hiring a non-UK citizen. As a UK graduate you are effectively bumped closer to the front of the Tier 2 visa list. This is good for employers, and it's good for you.
How to apply for a Tier 2 visa after completing your studies
To switch to a Tier 2 visa, you will need to show that you have completed a UK-recognised bachelor's or master's degree. You will also need to secure a job offer from a UK-based company and score 70 points on the UKVI's points-based system. The points are awarded as follows:
30 points for having a valid job offer from a registered Tier 2 sponsor
20 points for an offer of a minimum salary
10 points for having at least £945 available to you
10 points for meeting the English language requirement
If you meet all the requirements and your application is done correctly, you should receive your visa within eight weeks of applying. Due to the time constraints, it is vital that you ensure your application is presented correctly and includes all the relevant documentation and information.
The Tier 2 (General) visa will allow you to stay in the UK for up to five years. After five years of living in the UK on the same visa you could be eligible for indefinite leave to remain (ILR), which is just a few steps away from full British citizenship.
Get an Ancestry visa
If you have the right kind of family link to the UK, the Ancestry visa is possibly one of the easiest visas to obtain. It has proven to be incredibly popular with South Africans, Aussies and Kiwis with familial ties to the UK. With this visa, you can live and work in the UK for a period of five years, after which you can begin the process of applying for indefinite leave to remain.
The Ancestry visa allows you to work in any field without restriction and change jobs without requiring approval from Home Office. The Ancestry visa makes travel in and out of the UK a breeze too. You can exit and re-enter the UK multiple times, so having a job that requires lots of travelling won't be an issue on this visa.
See also: Why you want to get your hands on a UK Ancestry visa
How to apply for an Ancestry visa after completing your studies
The only catch with the Ancestry visa is that you cannot apply for it from within the UK. You will need to return home to apply. However, obtaining one opens a world of possibility for you in the UK.
It also has some of the most lenient eligibility requirements, these being:
You are aged 17 or over
One of your grandparents was born in the UK
You are a Commonwealth citizen
You intend to seek work in the UK
You are able to support and house yourself and any dependants without relying on public funding
Bring your partner and family members with you
You can apply to bring your dependants with you on your Ancestry visa. A dependant can be either your married or unmarried partner, or any of your children under the age of 18 (adopted or biological).
Your dependants will enjoy the same rights as you do. This includes being able to live and work in the UK for a period of five years. Plus, they will be eligible to apply for ILR at the same time as you, no matter how long they have been in the UK.
This means that should your partner or dependant only join you in the UK after three years, you will both be able to apply for ILR after just two years. This is one of the greatest benefits of the Ancestry visa, particularly if you and your dependants are wanting to naturalise as a British citizens.
Invest in the UK and gain residency
If you have access to £2 million (yes, you read right), then applying for a Tier 1 (Investor) visa is a reasonably straightforward way to get a UK visa. Once you have successfully invested your funds, you will be granted a visa that allows you to work and live in the UK for three years and four months. This visa can be extended for another two years if you satisfy certain criteria.
How to apply for a Tier 1 (Investor) visa after completing your studies
You can apply for a Tier 1 (Investor) visa if you:
Can invest £2 million or more in the UK in government bonds or share capital of active and trading UK companies
Are from outside of the European Economic Area (EEA) and Switzerland
Are over the age of 18
Have a UK bank account
Have funds which are available to be invested in the UK and held in a regulated financial institution
There's also the option to fast-track the time it takes to settle in the UK. By increasing your investment amount to either £5 million or £10 million, you can apply to settle after three and two years respectively.
Continuing your studies with another student visa
If you decide that you'd like to continue studying in the UK, you can apply to extend your Tier 4 visa. The process is much the same as when you applied for your initial student visa, in that you can only be sponsored by a UK, or overseas, higher education institute, certain colleges or an independent school. The main requirements for the extension are:
Show you are progressing in your studies, e.g. moving from bachelor's to master's level
Provide Confirmation of Acceptance for Studies (CAS) from your university
You must apply before your current visa expires, but not more than three months before the course date on CAS. You will be allowed to stay in the UK until you receive your visa notification.
---
Our immigration advisors can help you choose the right visa for your circumstances. Get in touch with us via email on immigration@sableinternational.com or give us a call on +44 (0) 20 7759 7580.
We are a professional services company that specialises in cross-border financial and immigration advice and solutions.

Our teams in the UK, South Africa and Australia can ensure that when you decide to move overseas, invest offshore or expand your business internationally, you'll do so with the backing of experienced local experts.

;