With a booming property market, stable economy and central location, Portugal has a lot to offer South African property investors, even if you have no intention of applying for the famous Golden Visa.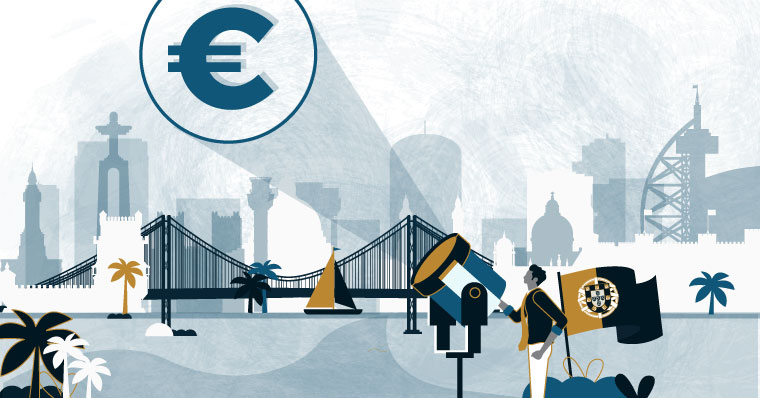 For South Africans looking to invest in Portuguese property, the main draw card is often the Golden Visa programme and the second citizenship it can lead to.
However, this European country has much more to offer as an investment destination.
Benefits of offshore property investment for South Africans
Real estate forms part of a well-diversified investment portfolio. However, when you reside in an emerging market like South Africa – with its volatile currency and economy – investing offshore in a more developed market also gives you the benefit of an asset that's underwritten in a more stable currency.
Choosing to purchase real estate offshore rather than locally you can:
Benefit from low interest rates (between 1 and 4% in Portugal, can be fixed for 20 years)
Earn solid returns in a foreign currency
Gain access to developed markets
Diversify your portfolio
Hedge against the volatile Rand
Migrate your wealth offshore
Potentially qualify for dual residency or second citizenship
Portugal welcomes foreign investors
While many developed countries across the world, and in Europe in particular, are wary of foreigners, Portugal has rolled out the welcome mat.
This is partly because foreign investment was the key to Portugal's economic recovery following its financial crisis. Portugal struggled throughout the early 2000s, eventually reaching a point where the economy was growing less on a per capita basis than the American economy did during the Great Depression. When the global economic recession hit, the country was forced to apply for an international bailout.
In addition to stringent austerity measures, Portugal implemented a number of programmes to encourage foreign investment in the years that followed.
In 2007, it introduced the D7 Visa
Also known as the Retirement Visa or Passive Income Visa, this visa encouraged wealthy foreigners from outside of the European Economic Area to move to Portugal. The requirement was that they were receiving an income equal to or exceeding the national minimum wage from a foreign country. This visa is still available today and attracts a large number of pensioners, trust fund beneficiaries and remote workers.
This programme offers foreigners certain tax exemptions for 10 years, provided they relocate to and become tax resident in Portugal. It specifically aims to attract foreigners who are in high-value added jobs, but it also grants additional benefits to pensioners and passive income earners.
This residency-by-investment programme was created to encourage wealthy foreigners to purchase property, invest in businesses or make a government donation in exchange for residency and eventual European citizenship.
Even though Portugal's economy has largely recovered as of 2017, it's experiencing a shrinking local population. As a result, its attitude towards foreign investment is unlikely to change.
What Portugal has to offer
With seafood, fine wine, sunshine and pristine beaches, Portugal has long been a holiday destination of choice for travellers from the USA, UK and elsewhere in Europe. Now, as the world becomes more digital, Portugal is courting a new generation of digital nomads – who work remotely from wherever they choose.
And many are choosing Portugal. The country boasts a Mediterranean climate and a low-cost yet high standard of living with easy access to the rest of Europe. It is consistently rated one of the safest places in the world and is known for its strong infrastructure, transport links and excellent healthcare.
While Lisbon is one of the most beautiful capital cities in Europe, many of these nomads are choosing to kick back with their laptops outside of the major metros, creating booming micro economies in locations where the cost of entry is still low.
Between the tourist trade, these remote workers and the highly skilled immigrants searching for property to buy or rent in order to qualify for the NHR, there's a large demand for property, that's only growing
Types of offshore property investment
There are a number of different ways to invest in Portuguese real estate and the method you choose will depend on your unique circumstance and what your goals are.
Buy a property to live in
If you're planning to emigrate to Portugal permanently and you wish to purchase a home rather than renting one, it's important to visit the country and look around the areas where you intend to live first as flashy brochures never accurately capture what a place is truly like.
While the idea of a villa in the middle of nowhere may seem romantic, the reality is you'll want to be close to facilities like hospitals, shopping centres and airports. It's also important to get advice from someone with expert local knowledge who can help you choose a location that meets your family's needs.
Buying a holiday home
If you plan on buying a property that you'll only live in some of the time, it's a good idea to arrange to rent it out while you're not using it so you can earn a return. You may want to consider choosing a location and property that will appeal to tourists or short-term renters. Something like a unit in a resort might make more financial sense than a standalone house you need to manage from afar.
Buying an investment property
You may wish to buy a property which is purely to generate a rental income in an area with expected growth potential. Portugal has been fast developing its buy-to-let market, which means that there will be opportunities available and businesses to take care of the investment whilst you look from afar.
As Portugal's buy-to-let market is still relatively young, you will need to put a great deal of consideration into where you purchase property and what your tenant profile is likely to be. This is highly variable across even small areas of the country, so it's important to get advice from an objective third party who has that local knowledge and oversight on the regeneration and investment into different areas of the country.
Real estate fund
This is a popular hands-off investment option. You can put a predetermined amount into a single or multi-asset fund that is then used to buy or build real estate. These are often hotels or resorts. You should choose a fund that has a good track record and a clear exit strategy.
Any of these options might qualify you for the Golden Visa. However, the Golden Visa Programme has very stringent guidelines and it's essential to get advice on whether or not a property will qualify before you purchase.
---
Whichever type of investment you're looking for, our offshore real estate investment team can guide you through the process and take care of all the facets including ownership structure, tax, foreign exchange, and property purchase advice. Our team is based in South Africa and Portugal, meaning we have essential local knowledge and experience to help you every step of the way.
Drop us a mail at rei@sableinternational.com or give us a call on +27 (0) 21 657 2120 and we'll be happy to answer any of your questions around investing in Portugal.
We are a professional services company that specialises in cross-border financial and immigration advice and solutions.

Our teams in the UK, South Africa and Australia can ensure that when you decide to move overseas, invest offshore or expand your business internationally, you'll do so with the backing of experienced local experts.

;