The UK government has released a detailed statement on what to expect from the new points-based immigration system, due to take effect from 1 January 2021, when the free movement rights enjoyed by the 27 EU/ EEA member states will come to an end.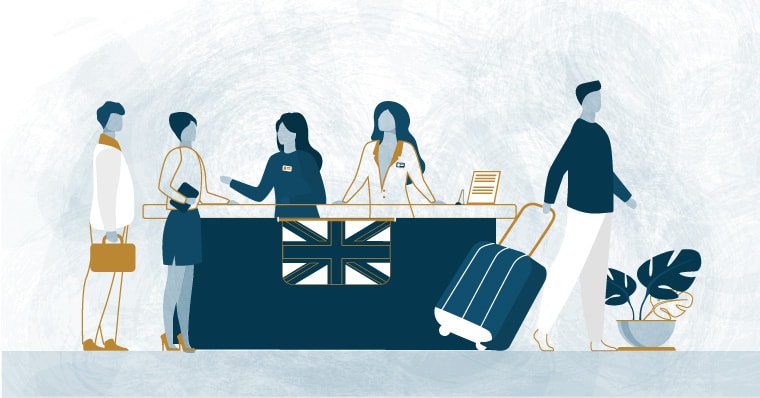 The new system will bring both EU and non-EU nationals under a singular immigration regime and UK employers will need to assess their existing recruitment practices, right to work processes and address their sponsor licence needs as they look at ongoing business requirements moving into 2021 and beyond.
EU nationals
EU nationals will continue to have rights of free movement until 23:00 on 31 December 2020. In order to protect and preserve their rights to live, work, visit and study in the UK, without restriction, it will be necessary to make an application for pre-settled, or settled status, under the EU Settlement Scheme (EUSS). Particular points to note are:
The deadline to apply under the EUSS is 30 June 2021.
From 1 January 2021, EU nationals will need to present a valid passport with at least six months' validity when entering the UK, and will not be able to rely on National ID cards.
From 1 January 2021, EU nationals travelling to the UK will need to obtain a visa in advance for all activities except short-term visits (e.g. business or tourism).
Skilled workers
Under the new UK immigration system, the Tier 2 (General) category will be replaced by the Skilled Worker category. The headline changes to the existing scheme will be the removal of the often burdensome and time-consuming Resident Labour Market Test (although a genuine vacancy must still exist) and the suspension of the monthly limit on eligible applicants. As a result, employers should experience much quicker end-to-end processing, saving as much as eight weeks in some cases.
The minimum skills threshold will also be reduced from the current NQF Level 6 (graduate level), to NQF Level 3 (A-level standard), opening the scheme to a broader number of occupations. To reflect the lower entry requirement, the minimum salary level has been reduced from £30,000 to £25,600 or the going rate for the job (as per the applicable Standard Occupational Classification), whichever is higher.
The English language requirement will, however, continue to apply.
In order to qualify as a Skilled Worker, applicants must obtain a total of 70 points.
A core 50 points will be earned from a job offer at a certain skill level from a licenced sponsor, with the applicant being able to show evidence of their English Language ability.
An additional 20 points may be obtained via a "mix and match/ tradeable" process, largely dependent on the salary rate offered, but also encompassing roles that are recognised as being a shortage occupation and those jobs requiring a relevant PhD-level qualification.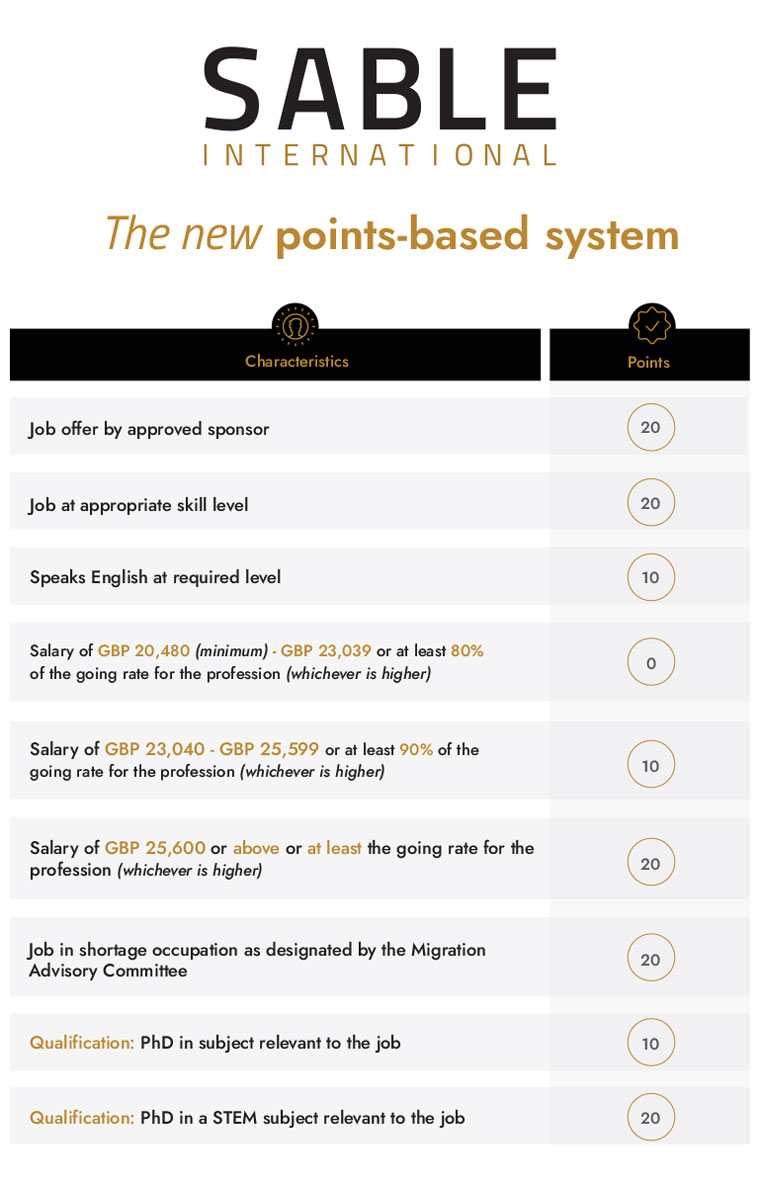 Intra-company transfers
The Intra-Company Transfer route replaces the current Tier 2 (ICT) category, but the criteria remains unchanged. Eligible applicants must have been employed for at least 12 months (unless a "high earner") at the overseas sending company before being transferred to the UK. Previous employment criterion is reduced to three months in the case of a graduate intra-company trainee.
The UK role must be at NQF 6 level and meet the minimum salary threshold of £41,500 pa (or £23,000 pa for a graduate intra-company trainee). The eligibility requirements are therefore at a higher threshold than those of the Skilled Worker route, although the concession of not having to evidence English Language ability is a key differentiator. The Intra-Company Transfer category still doesn't lead to settlement and the combination of these criteria significantly diminishes the attraction of this route to UK employers as a result.
The key welcome change to the ICT route is that migrants will now be able to switch into the Skilled Worker route from within the UK (including those in the UK prior to the rule change), which has historically been prohibited.
Graduates
Expected to launch in the summer of 2021, a new Graduate route will allow international students to extend their stay in the UK following the completion of their studies. This scheme mirrors the previous Post Study Work Visa that was abolished in 2012, allowing recent graduates to take employment at any skill level, with the ability to later switch into a sponsored work route. For undergraduate and Master's degree students, this will be limited to a two-year visa and PhD students will benefit from up to three years. The main additional features of this scheme will be:
It is an unsponsored route.
The graduate will be able to work at any skill level.
No maintenance requirement.
No additional English language requirement.
Ability to switch into skilled worker routes.
Highly skilled workers
This unsponsored route is currently the subject of Migration Advisory Committee consideration and, once open, will permit the entry of a limited number of highly skilled workers without a secured offer of UK employment.
Our advice
Employers will need to act now if they intend to employ workers from EU member states from 1 January 2021. With a marked increase in sponsor licence applications in the run up to year-end, processing times are increasing, which will have a marked impact on business recruitment activities in the new year.
For those who already hold a sponsor licence, consideration should be given to Certificate of Sponsorship allocations and linked European entities that may need to be added to the licence.
In addition, with EU nationals being treated the same as all other migrant workers, there will need to be shift in approach with recruitment practices, right to work processes, associated documentation and how sponsor licence compliance obligations are managed to accommodate.
---
Our team at Sable International is on hand to help employers navigate all aspects of these rule changes and would be happy to assist with your sponsor licence and ongoing immigration programme management. Get in touch with us at workpermits@sableinternational.com or by calling +44 (0) 20 7759 7584.
We are a professional services company that specialises in cross-border financial and immigration advice and solutions.

Our teams in the UK, South Africa and Australia can ensure that when you decide to move overseas, invest offshore or expand your business internationally, you'll do so with the backing of experienced local experts.

;