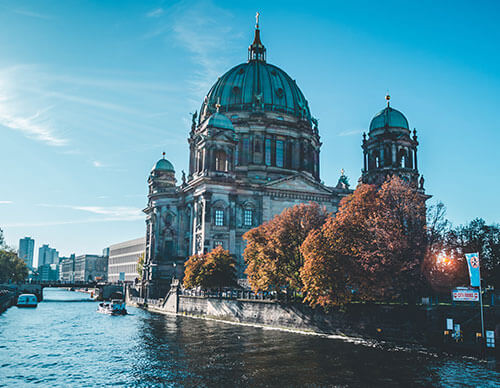 Berlin
Known for its thriving arts scene and buzzing nightlife, the capital city is an exciting and appealing place to live and work. It is a vibrant hub for one of the largest business sectors, with a large focus on technology. With an increase In demand for upmarket housing in central locations, Berlin is attracting investors from all over the world.
Frankfurt
Frankfurt is a leading contender for the relocation of banks from London, and as Europe's largest financial centre, it has seen sharp increase in property investment into this "Alpha world city". While not the biggest city in Germany, Frankfurt is the transport hub of the country, with established land connections and extensive airlift, making business travel to and from the city a breeze.
Benefits of investing in Germany
A straightforward buying process
No restrictions on foreign investment

An established offering of mortgages at relatively low interest rates
High demand for rental accommodation in the middle-to-upper end of the market
Long-term factors to consider
High demand is expected to result in continuous price increases for both residential property and rental pricing, especially in urban areas where demand outweighs supply.
Efficient systems in place for property management, stabilising asset maintenance post investment.
English widely spoken, alongside German
Multinational country with a strong cultural backing
All considered, it's easy to see why Germany is a chosen favourite for real estate investment.
Get in touch
Fill in your details below and one of our consultants will be in touch shortly.











Disclaimer: Please do not act in reliance on information published or advised without consulting a suitably qualified independent legal or other professional advisor of your own choosing. Sable International will not be liable for any direct, indirect or consequential loss or damage suffered by any person as a result of their use or reliance on any of the advice provided by any one or all of the professional advisors identified by Sable International. Sable International will not be liable for any direct, indirect or consequential loss or damage suffered by any person as a result of the Portuguese Government changing the legislation and or rules around immigration and nationality. Obtaining Portuguese residency and citizenship is at the sole discretion of the Portuguese Government. Sable International will not be liable for any direct, indirect or consequential loss or damage suffered by any person as a result of the Portuguese Government not granting an applicant residency or citizenship.

;