A simplified Australian Business Innovation and Investment Programme will halve the number of streams and provide clearer routes to permanent Australian residency for all applicants.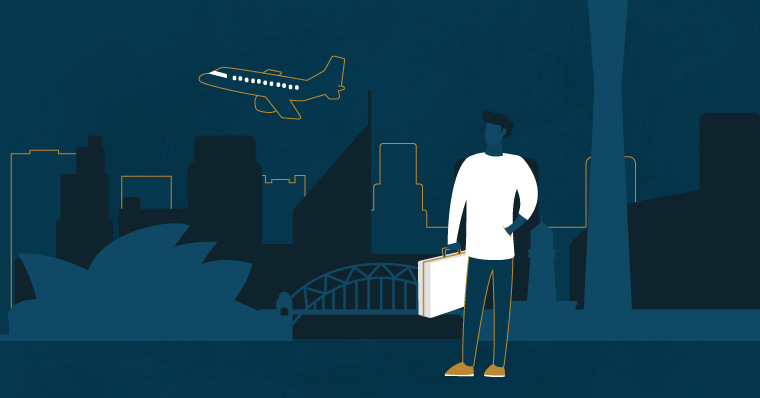 From 1 July 2021, the Australian Business Innovation and Investment Programme will consist of just four streams: Business Innovation, Entrepreneur, Investor and Significant Investor. This is down from the nine streams that have been available since the Premium Investor stream was launched in 2015.
Australia already holds a place as one of the top 10 citizenship-by-investment countries in the world. The refinement of the remaining streams aims to encourage further investment and make it easier for investors to remain in the country.
Business Innovation visa stream
The Business Innovation stream is a solution for those who already own and run a successful business. It's one of the few skilled Australian visa routes open to those over the age of 45.
To qualify, you must score at least 65 points on the immigration points test and be under 55. A state or territory can choose to waive the age requirement if your business is determined to be of exceptional economic benefit.
To prove your business acumen, you must:
Have owned a business for at least two out of the four previous fiscal years that had at least AUD 700,000 turnover (up from AUD 500,000).
Have net business and personal assets of AUD 1.25 million (up from AUD 800,000) for you, your partner or both combined that can be used to establish a business in Australia.
If you're granted the Business Innovation stream visa (subclass 188A), it will now be valid for five years (up from four years and three months) from the date it's issued.
After running a business in Australia, you can transition to the Business Innovation and Investment visa (subclass 888A), which is a permanent residence visa, provided your business satisfies certain requirements related to turnover and financial assets.
You will also have the option of extending the 188A if you do not meet the business turnover requirements for the permanent 888A. This single two-year extension will be granted if you can show a realistic commitment to continuing to manage a business that has been actively operating in Australia for the past two years.
Entrepreneur visa stream
The Entrepreneur stream has had few applicants in the past, due to the stringent requirements. According to data released by the Department of Home Affairs at the end of 2019, only eight applications had been received between July 2012 and December 2018.
As a result, the government has been piloting an overhaul in South Australia and it has now decided to go ahead with a full rollout.
To apply, you currently need to have a funding agreement of at least AUD 200,000 from an approved entity to carry out an entrepreneurial activity in Australia. This threshold is being scrapped.
However, you'll now need to be endorsed (not merely nominated) by a State or Territory government and you will still have to show a viable business plan for your chosen activity. This activity could be commercialisation of a product or service, or the development of an enterprise or business. It may not be residential real estate, labour hire, or the purchase of an existing business in Australia and both you and your family must meet a good character requirement.
As with the Business Innovation stream, if you're granted the provisional visa (subclass 188E), it will now be valid for five years (up from four years and three months) from the date it's issued. You can transition to the permanent residence visa (subclass 888E), provided you can demonstrate a successful record of your entrepreneurial activities while holding the provisional visa.
Investor visa stream
If you have had a successful career in business ownership or investment management, you might be eligible for this temporary visa. Although the requirements state that you must be under 55, as with the Business Innovation stream, a state or territory can choose to waive the age requirement if you are considered to be of exceptional economic benefit.
The visa requires that you:
Invest at least AUD 1.5 million into an Australian state or territory government bonds and hold that investment for four years.
Have at least three years' experience, a record of success and a high level of skill in business and/or investment management to apply.
Have net business, investment and personal assets of at least AUD 2.25 million and score at least 65 on the points test.
You must show a realistic commitment to continue and maintain business or investment activity in Australia after your initial investment matures.
The initial provisional visa (subclass 188B) will now give you the right to live in Australia for five years. As part of the changes, it has been suggested that you may apply for permanent residency after maintaining your investment for three years (down from four), although you will need to maintain the investment for the fourth year to be granted the permanent visa. You must also have lived in Australia for at least two of those years.
Significant investor visa stream
The key benefit of the Significant Investor Stream, compared to the Investor Stream, is that there is no upper age limit. However, you need to invest at least AUD 5 million into complying investments in Australia to qualify and you need to show a genuine intention to maintain that investment for the duration of your provisional visa.
This stream was updated in 2015 to restrict the types of investments and there are now specific requirements regarding the structure of your investments that you need to meet in order to be eligible for permanent residency.
The key change coming to this stream in July is that you will now be able to extend your provisional visa twice (two two-year extensions, a total of four years) before applying for the permanent residency visa, provided you maintain your investments over this time. You may wish to do this if you don't meet the business or residency requirements after three years. Previously, you had to apply to a separate Significant Investor Extension stream to extend your stay in Australia for those four years.
As with the other Australian Business Innovation and Investment Program visas, the initial provisional visa will now be valid for five years, and you're permitted to apply for permanent residency after three years.
Which Australian BIIP streams are being removed
The Premium Investor, Significant Business History and Venture Capital Entrepreneur streams are getting the axe. Applications that are already lodged by 1 July 2020 will still be processed and those holding provisional visas in the affected streams will still be able to apply for the corresponding permanent visas.
It is unlikely these streams will be missed. According to Home Affairs data, fewer than five Premium Investor visas were ever applied for and fewer than 20 Venture Capital Entrepreneur applications were made per year between 2012 and 2019. The Significant Business History stream was slightly more popular, peaking at 817 applications in 2017. However, those who would have qualified through that stream, will also qualify through the Business Innovation stream which has similar, but less stringent, requirements.
The two other affected streams are the extension streams: The Business Innovation Extension stream and the Significant Investor Extension stream. Both provisional visas will now include the ability to extend without leaving the stream.
Economic benefits for Australia
These changes are in line with other efforts by the Australian government to boost the economy following the fallout from the pandemic.
Acting Minister for Immigration, Citizenship, Migrant Services and Multicultural Affairs, Alan Tudge, said the changes aim to drive investment in key sectors and create Australian jobs.
In the Federal Budget in October, the government doubled Business Innovation and Investment Programme places from 6,862 to 13,500 and promised to prioritise the processing of these visas.
---
We are a professional services company that specialises in cross-border financial and immigration advice and solutions.
Our teams in the UK, South Africa and Australia can ensure that when you decide to move overseas, invest offshore or expand your business internationally, you'll do so with the backing of experienced local experts.