The UK introduced a revised points-based system on 1 January 2021. If you want to know how to immigrate to the UK, you'll need to be aware of the regulations.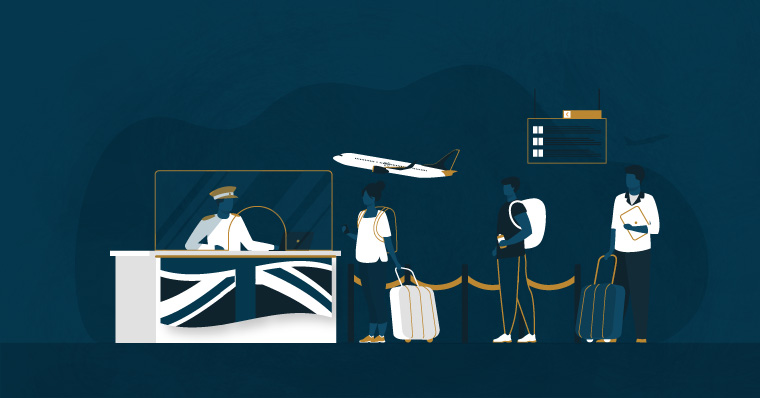 On 31 December 2020, freedom of movement between the UK and the EU ended, and a new points-based system came into effect. This new system allows EU nationals to apply for the relevant visas required to live and work in the UK, as well as continuing to give that same ability to non-EU nationals. If you're wondering how to immigrate to the UK under the new regime, you will have to accumulate at least 70 points in order to be eligible for a visa.
How will the new points-based system affect EU and non-EU citizens?
The points-based system treats EU and non-EU citizens equally. This means that EU citizens who want to move to the UK for work will need to seek permission, in the same way that non-EU citizens currently need to apply for a visa before working in the UK.
EU citizens already living in the UK with pre-settled or settled status, as well as non-EU citizens with indefinite leave to remain (ILR), may live and work in the UK without the need to apply for further work permission. Irish citizens do not need to apply for a visa under the new Skilled worker route, and automatically have the right to live and work in the UK.
What is the new Skilled Worker immigration route?
The primary route to work in the UK is to obtain employer sponsorship under the Skilled Worker category. In order to qualify, you will need to obtain points on the basis of your qualifications, skills, prospective income and other factors, such as whether there is a shortage of appropriately skilled UK resident applicants for a job.
You will need to obtain 70 points to be able to apply for a Skilled Worker visa. 20 points will be awarded if you have a job offer from an approved sponsor. Any business that wants to recruit workers from outside the UK through the Skilled Worker route will need to become a licenced sponsor.
What sort of work qualifies for a Skilled Worker visa?
Under the new immigration system, to qualify for a Skilled Worker visa, the job must be skilled at or above RQF level 3 (A-Level qualifications). The Home Office has established a list of roles which meet the required skill level. The list of occupations that do and don't qualify for a Skilled Worker visa can be found in the Skilled Occupations Appendix.
Many technical occupations which would not have been sufficiently skilled to qualify for the old Tier 2 (General) visa may now qualify under the Skilled Worker visa route.
Can I be transferred through my company?
Yes. The new system also permits Intra-company Transfers (ICT) under specific circumstances. For example, if you work for a multinational business with international offices, the ICT route allows you to be transferred to a UK office.
You must have been employed for at least 12 months (unless deemed a "high earner") at the overseas sending company before being transferred to the UK. The previous employment criterion is reduced to three months if you are a graduate intra-company trainee.
The UK role must be at NQF 6 level and meet the minimum salary threshold of £41,500 (or £23,000 if you're a graduate intra-company trainee). The eligibility requirements are therefore at a higher threshold than those of the Skilled Worker route, although not having to prove English Language ability is a key differentiator. It is important to note that the Intra-company Transfer category still doesn't lead to settlement and this largely diminishes the attraction of this route to UK employers as a result.
I'm considered a leader in my field, what are my options?
The Global Talent route allows you to work in the UK if you are a leader or potential leader in academia or research, arts and culture or digital technology.
What if I have just finalised my studies?
The Graduate route, which will be available from 1 July 2021, will allow international students who have completed a degree in the UK to remain in the country for two years after they graduate, while international students who complete a PhD will be allowed to remain for three years. If you are then offered skilled employment with a licenced sponsor who is willing to sponsor you, you may be able to switch to the Skilled Worker visa category.
I have secured a UK job offer, what does my employer have to do now?
If a UK employer wishes to hire you under the Skilled Worker visa route, they must hold a Home Office sponsor licence. This licence must be in place before your Skilled Worker visa application can be made. It is recommended that employers get professional advice regarding the complicated immigration laws attached to the process and the various duties that accompany maintaining a sponsor licence – such as record-keeping and reporting to the Home Office.
It is essential that your employer knows what these duties are and puts systems in place to comply with them. If the Home Office believes that your employer has breached their sponsor duties, it will take steps to revoke the business's relevant sponsor licence and introduce a fine. This will also then have a bearing on the validity of your Skilled Worker visa.
What will my employer pay for sponsoring me to move to the UK for work?
Government fees remain the same as for the previous Tier 2 (General) visa scheme, currently set at £620 for a visa issued for up to 3 years or £1,220 for a visa issued for up to 5 years. These fees are subject to change, and there are variations based on the nationality of the applicant, or whether their role falls into a shortage occupation.
The Immigration Health Surcharge for adults has also increased to £624 per year. For children under 18, it will cost £470 per year.
Employers will also need to take into consideration the Immigration Skills Levy, which is a yearly fee imposed on companies who sponsor migrant workers. This fee is to "contribute towards addressing the skills gap in the local economy". The fee is either £364 per year if your sponsor is considered a small business, or £1,000 per year otherwise.
---
We help businesses secure their sponsorship licences and assist with ongoing employee immigration management. Contact us at +44 (0) 20 7759 5307 or workpermits@sableinternational.com.
If you would like to apply for one of the aforementioned visas, get in touch with one of our experts to start your immigration process today. Call us on +27(0) 21 657 2180 or immigration@sableinternational.com.
We are a professional services company that specialises in cross-border financial and immigration advice and solutions.

Our teams in the UK, South Africa and Australia can ensure that when you decide to move overseas, invest offshore or expand your business internationally, you'll do so with the backing of experienced local experts.

;