One of the most critical elements of a move overseas is your employment contract. The benefits, allowances and conditional clauses you negotiate will be key in shaping your quality of life. Here's what you need to consider before you sign.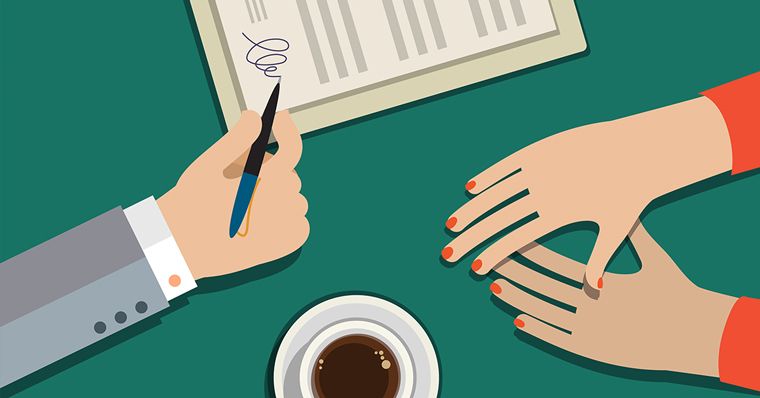 What to consider before signing your UK employment contract
Job title and description
The fundamental role of your contract of employment is to define the obligations of both you and your employer. Always read through your contract thoroughly – knowing the scope of your role will help clearly outline what your employer expects from you. This will also help ensure you avoid doing tasks outside your skillset. Not having clear duties and expectations mapped out can also lead to you having a heavier workload than you anticipated. Clarify your responsibilities early on in your discussions.
Notice Period
Your notice period must be included in your contract. In Europe it's not uncommon to give employers three months' notice before leaving your position. A long notice period can be inconvenient to your job search, as another employer may not be willing to wait that long. But it's also an advantage in a time of uncertainty – it offers you a degree of job security while you search for a new position.
Salary expectations
A salary increase is a popular reason for moving abroad, as expats earn on average 25% more than they would at home. But before you sign on the dotted line, take the net salary you've been offered and convert it to your home currency. Compare your current salary with the new offer to see how they match up. Is the new salary enough for you to maintain the same standard of living in the UK?
Cost of living
If the UK's costs are higher than where you're currently living, you could use this fact to request a salary increase. Before negotiating your pay and any living costs your new employer might cover, do plenty of research to ensure you have the prices to back your claims.
See also: How to calculate your costs before you immigrate to the UK
If it's your dream job, you might be tempted to forgo a considerable pay increase. But the fact that an employer is willing to bring you into the country is proof you have a talent they desire. Know your worth when negotiating your salary.
Bonuses
Whether or not you're entitled to bonus payments depends on the agreement between you and your employer. The details of any bonus scheme should be specified in the terms of your contract.
There are two types of bonuses: contractual and discretionary. If the bonus is contractual, your employer must make these payments if you meet the performance targets agreed upon. A discretionary bonus is not disclosed in advance. Your employer can choose when to pay this bonus as well as how much to pay.
Taxes
Some countries tax expats on their worldwide income, while others only tax your earnings inside the country.
If you move to the UK, you will be expected to pay UK taxes. All individuals are taxed at the same rate regardless of their residency status, but residents pay tax on their worldwide income whereas non-residents are taxed only on income earned in the country. If you stay in the UK for at least 183 days in the tax year you are considered a resident.
Working hours
The working culture may be different to what you're used to, so be sure to ask your employer about anything that's unclear. In the UK, workers are not generally permitted to work more than 48 hours per week. If your hours aren't specified, enquire about them. Are you required to work evenings and weekends? And if you are, will you be paid overtime or can you convert those hours into time off? If the work hours are unsuitable, negotiate before signing.
Accommodation costs
Find out if you'll be responsible for paying your accommodation costs, or if your employer will provide for a place to stay. If you must cover the costs, ensure your salary will be enough to pay for a place similar to your home accommodation.
Benefits and expat packages
Expat packages come in many variations depending on the responsibilities and position you are coming into. These are some benefits to consider enquiring about:
Relocation
Relocation packages consist of all costs for the initial move to the host country. Think visas, flights, hotels and one-time lump sum expenses. Relocation costs may be covered, but this doesn't mean the company will manage or coordinate your move for you.
Housing
If you're an executive, you will most likely earn a housing allowance as an annual, quarterly or monthly sum. Depending on your expat package, housing may include basic utilities and domestic help.
Education
If you have children under 18, you may be granted an education allowance. Some expats use this for international boarding schools either in their home country or a country of their choice.
Home travel
Some packages will cover the costs for you and your family to travel back to your home country up to twice per year.
Holiday entitlement
In the UK, most workers are entitled to at least 5.6 weeks of paid holiday (28 days paid annual leave). Depending on your contract and position, your employer may offer more than the minimum. The main things to consider are:
You start accumulating holiday entitlement as soon as you begin work
Your employer can decide when you take your holiday
You receive your regular pay for your holiday
When you leave a job, you get paid out for any holiday you've not yet taken
Public holidays
Public holidays are known as bank holidays in the UK. They change slightly based on where you live: There are currently eight permanent public holidays in England and Wales, nine in Scotland and 10 in Northern Ireland. If paid leave is given on a bank holiday, this will be part of your annual leave, but your employer doesn't have to give you paid leave for public holidays.
Sick leave
If you are ill, you're entitled to take time off work. You'll need to give your employer a sick note if it's for more than seven days. You can also qualify for Statutory Sick Pay (SSP) if you're too sick to work. As an expat, your employer may offer you more sick pay than the minimum amount through their own company sick pay scheme.
Restrictive clauses
Restrictive clauses in employment contracts are used to protect the business. They stop you from stealing clients or employees, competing against the company and working for competitors within a specified amount of time after the termination of your contract. Read through your contract to be certain these clauses don't impact your future career plans.
Termination clause
Read this section carefully. Ask HR for clarification if you don't understand any legal jargon. You want to avoid any dismissal situations that may arise from misunderstandings or without cause.
Use our below checklist when going through your employment contract to ensure you're getting the most out of your expatriate assignment:
Employment Checklist
You understand and agree to the defined job title and description
You understand and agree to the notice period
You have calculated your cost of living and are satisfied
The remuneration offered is adequate
You have an annual income of £100,000 or more
You have income from trusts, settlements and estates
You understand and agree to your bonus entitlement
You understand and agree to your work hours
You understand which benefits you will receive
You will receive an adequate relocation package
You will receive an adequate housing allowance
You will receive an adequate education package (for dependants under 18)
You will receive a home travel allowance
You understand and agree to any and all restrictive clauses
You understand and agree to your accommodation costs and responsibilities
---
We are a professional services company that specialises in cross-border financial and immigration advice and solutions.
Our teams in the UK, South Africa and Australia can ensure that when you decide to move overseas, invest offshore or expand your business internationally, you'll do so with the backing of experienced local experts.