People often confuse indefinite leave to remain with UK citizenship, or assume that they mean the same thing. Although there is a lot of overlap between the two, there are important differences that should not be overlooked.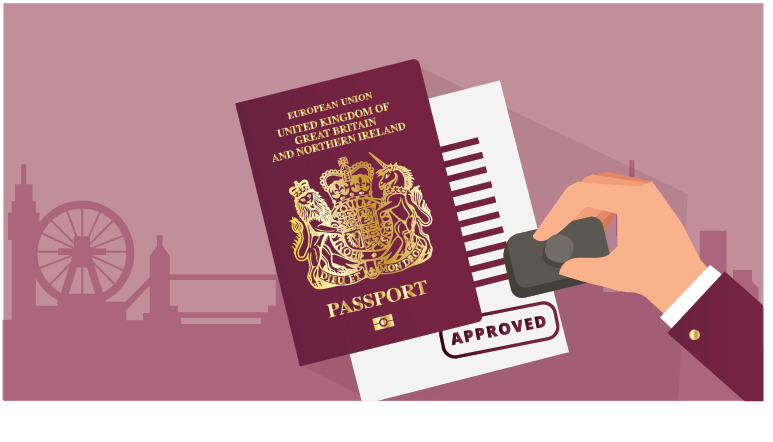 This blog was first published in January 2017 and has been revamped and updated.
Indefinite leave to remain (ILR) allows you to live and work in the UK. It's also referred to as "settlement". Once you've obtained ILR status, you are no longer subject to UK immigration controls – you can enter and exit the country whenever you like.
Here are the requirements to apply for ILR:
Check how long your visa category requires you to have been in the UK.
We've listed some common ones below:
| | |
| --- | --- |
| Category | Time spent in UK |
| Tier 2 (General) visa | Five years |
| Tier 2 (Intra-Company Transfer) visa | Five years |
| Tier 1 (Entrepreneur) visa | Five years (three years if your business is new and you created 10 new jobs or made £5 million) |
| Tier 1 (Investor) visa | Two, three or five years depending on the amount you invested. |
| UK Ancestry visa | Five years |
| Retired Person visa | Five years |
| Partner or spouse of British citizen or settled person | Five years |
Check that you meet the continuous residence requirement.
You must not have spent more than 180 days outside the UK in any 12-month period in the last five years. This requirement works on a rolling basis, which means that the 12-month period doesn't necessarily have to be a calendar year – it can be any consecutive 12 months.
If you are a Tier 2 visa holder, you will need to earn at least £35,800 per year at the time of your application to meet the minimum earnings threshold for ILR.
Meet the English language requirements and pass the Life in the UK Test.
For most visa holders between the ages of 18 and 64, these two requirements are essential to gaining ILR.
For the English language requirement, you need to prove your knowledge of the English language either through a qualification at the right level, or through a degree taught or researched in English.
The Life in the UK Test is designed to show your knowledge of life and language in the UK. It's several multiple-choice questions on British life that you take at an approved testing centre. You can study for the test through the official handbook.
ILR is just one step away from British citizenship, although it is not citizenship itself.
British citizenship
Gaining ILR through spending time living and working in the UK is the first step. Once you've achieved ILR or "settled status", you can then apply for British citizenship. British citizenship or naturalisation gives you the right to a British passport and the full rights of a UK citizen. Here are the requirements to apply for British citizenship:
Check that you've held ILR for at least 12 months.
After you've held ILR status for at least one year, you can apply for citizenship. If you're married to a British citizen, you don't need to wait a year to apply.
Ensure you meet the residency requirements.
You must not have:
Spent more than 90 days outside the UK in any 12 months
Spent more than 450 days outside the UK during your five years of UK residency
Meet the "good character" requirement.
To become a British citizen, you'll have to be of good character. During your time spent living in the UK, you'll need to have followed the laws and respected its rights and freedoms. This means doing things like paying your income tax and National Insurance contributions, among others.
Various background checks will be performed, so ensure you've always been on the right side of the law and been completely honest in your application.
It takes up to six months to process a citizenship application, and you are required to attend a citizenship ceremony within three months of your application being approved. A standard adult British passport usually takes about six weeks to be issued.
Difference between ILR and citizenship
ILR is a stepping-stone on the path to British citizenship. Here are the main differences:
ILR can be lost after two years away from the country
If you've been away from the UK for more than two years, your ILR or settled status will be lost. You will have to apply for a Returning Resident visa. It's up to the discretion of the Home Office to grant the visa, and you'll have to prove that you plan to return and live in the UK permanently.
Citizenship is for life
While there are some circumstances which can result in your Citizenship being revoked, it's uncommon. With UK citizenship you can freely enter, exit, live and work in the UK forever.
Citizenship gives you access to a British passport
A British passport is one of the most powerful in the world. Having one means you can enter many countries without a visa.
Citizenship gives you the right to vote
While ILR doesn't let you vote in UK elections, having Citizenship gives you voting power, just like any other British citizen. You can even stand for public office.
UK law allows for dual citizenship but be sure of the relevant laws in your home country.
---
We are a professional services company that specialises in cross-border financial and immigration advice and solutions.
Our teams in the UK, South Africa and Australia can ensure that when you decide to move overseas, invest offshore or expand your business internationally, you'll do so with the backing of experienced local experts.