When applying for an Australian visa or citizenship, you have to prove that you are of good character before being granted entry. We take a look at what this means and how to pass this test.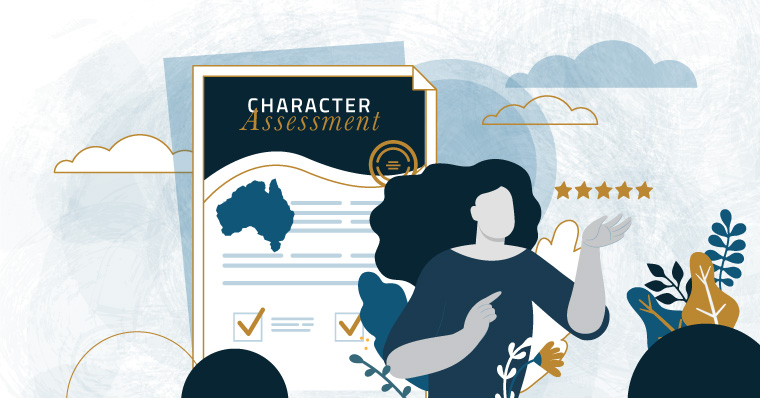 In order to enter Australia, whether visiting or immigrating, you will need to pass the good character test, and remain of good character while you're there. The need for the good character test reflects ongoing national security concerns and aims to protect all citizens and residents of Australia.
What is meant by "good character"?
Since "good character" is not defined by the Citizenship Act, the government decides who qualifies on a case-by-case basis, guided by the Australian Citizenship Policy.
In the Citizenship Policy, the words "good character" are used to refer to a person's enduring moral qualities, not just their good standing or reputation in the community. This would include:
The ability to distinguish right from wrong
Behaving in an ethical manner
Conforming to the rules and values of Australian society
How personal values affect the good character requirement
Other information that is relevant to a person's character is also considered, such as information provided by the person about their family life. For example:
Raising children
Being in a stable home environment
Being responsibly employed
Paying taxes
Any community work undertaken
Any other matter that is relevant to an assessment of character in the circumstances of a particular case
See also: Popular Australian visas: Current processing times for 2021/2022
Can you get an Australian visa with a criminal record?
It's essential that you disclose any criminal record you have when making your application, as your visa may be rejected if you withhold any information.
Having a criminal record doesn't automatically mean you will be judged as not having a "good character" and it doesn't necessarily preclude you from getting a visa. Each case is assessed on its own merit. If you have a criminal history, the decision-maker will consider the seriousness of the crime, the length of time since you committed the offence and whether you have been rehabilitated.
See also: Australian immigration: Can you pass the points test for Australian visas and permanent residency?
Police clearance certificates from resident countries
Depending on the type of application you are making, you might need to provide an overseas police clearance certificate from each country where you spent a total of 90 days or more in, if you have:
Lived or travelled overseas since you turned 18, and
The total time you spent overseas adds up to 12 months or more, and
The total time you spent in one country adds up to 90 days or more
Under which circumstances are you likely to fail the Australian good character test?
You may not pass the character requirements in some situations. These include:
If you have a substantial criminal record. Generally speaking, this means you have been sentenced to a term of imprisonment for 12 months or more.
If you have been convicted of escaping from immigration detention or convicted for an offence that you committed:

While you were in immigration detention
During an escape from immigration detention
After an escape, but before you were taken back into immigration detention.

If you have been a member of or had an association with a person, group or organisation that the minister reasonably suspects of being involved in criminal conduct.
The minister reasonably suspects that you have been involved in people smuggling, human trafficking, genocide, a war crime, a crime against humanity, a crime involving torture or slavery, or a crime that is of serious international concern. It doesn't matter whether or not you've been convicted of such an offence.
If your past and present criminal or general conduct shows that you are not of good character.
There is a risk that while you are in Australia you would:

Engage in criminal conduct
Harass, molest, intimidate or stalk another person
Vilify a segment of, or be a danger to, any part of the Australian community
Incite discord in the Australian community or in a part of it.

If you have been convicted, found guilty or had a charge proven for a sexually based offence involving a child.
If you are subject to an adverse security assessment by the Australian Security Intelligence Organisation.
If you are subject to an Interpol notice, from which it can be inferred that you are either a direct or indirect risk to the Australian community, or any part of it.
If you have been convicted of a domestic violence offence or have ever been subject to a domestic violence order.
See also: Want to move Down Under? We unpack all Australian visas
Character requirements after you apply for an Australian visa
Once you submit your visa application, the Australian Immigration Office may ask you to provide extra documents regarding the character criteria, such as:
Police certificate
Military certificate
Character assessment
Statutory declaration
Letter of good conduct from employer (if applicable)
Australian immigration and permanent residency: How we can help
Applying for Australian citizenship can be a technical and complex process. With over 20 years of experience in providing immigration and nationality advice, our consultants are trained professionals who understand the intricacies of Australian immigration.
We manage the entire visa process for you from start to finish, including providing you with assistance if you happen to answer in the affirmative for one of the statements on the character test declaration, or if your police clearance comes back with an offence listed. We handle it on a case-by-case basis and sometimes all that's needed is a simple statement from you explaining the circumstances. Other times, statements from friends and colleagues will be required to attest to your good character.
We help our clients during this potentially stressful part of the procedure by providing instructions on how to apply for the correct police clearances, supplying you with template letters as well as giving feedback on drafts of the character statements if they are required.
---
Should you need more information on whether or not you qualify for an Australian visa, take our free Australian visa assessment.

If you'd like assistance applying for your Australian visa or Australian citizenship, our team of experts is ready to make the whole process easier. Get in touch via email on migration@sableinternational.com or call +613 (0) 8651 4500 (Australia) or +27 (0) 21 657 1526. (South Africa) or +44 (0) 20 7759 5307 (UK) to discuss your options in more detail.
We are a professional services company that specialises in cross-border financial and immigration advice and solutions.
Our teams in the UK, South Africa and Australia can ensure that when you decide to move overseas, invest offshore or expand your business internationally, you'll do so with the backing of experienced local experts.