Studying abroad is a life-changing experience that helps you gain global skills. With its outstanding, internationally recognised quality of teaching and research, Edinburgh is one of the best cities for international students to study abroad. Our Study Abroad team, together with Edinburgh Napier University, hosted a webinar on the opportunities for international students.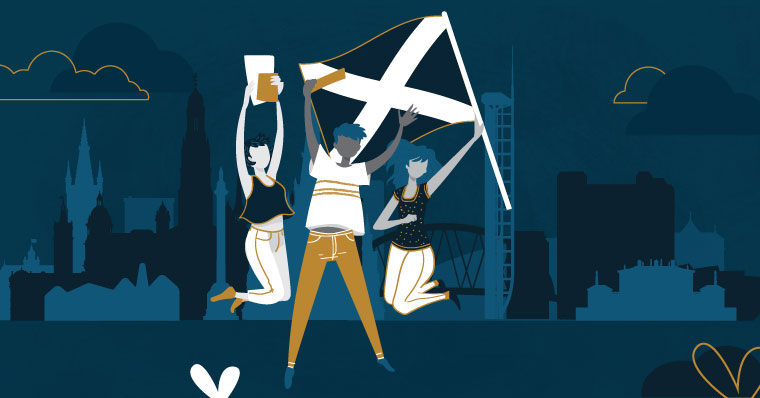 Edinburgh Napier University
Edinburgh Napier University is a public university located in Edinburgh, Scotland. Edinburgh is situated in the central east of the country, on the south bank of the Firth of Forth (the river's mouth into the North Sea).
With a population of more than 500,000, Edinburgh is one of the fastest growing cities in Scotland. The picturesque city is vibrant, cosmopolitan and has been consistently voted one of the best cities in the world. The city itself is very historic, a world heritage site and is home to the Edinburgh Festival Fringe, the largest arts festival in the world, which takes place every August. There are many more cultural events to attend throughout the year.
See also: Study in the United Kingdom.
The city of Edinburgh is a student-friendly city, with 12% of the population of the entire city being students. Edinburgh is the perfect place to experience student life or build your career.
Edinburgh Napier has three campuses that are easily accessible and offer diverse, collaborative communities and excellent facilities. It was the top-rated modern Scottish university in the Times/Sunday Times Good University Guide 2021, serving nearly 20,000 students.
See also: The best countries to study abroad for your postgraduate degree.
Cultural and social activities
If you are interested in sports, the university offers various sports clubs and has a gym with a very affordable membership for students. If you have other interests, you can join over 100 clubs, sports clubs, theatres and societies.
The Fresher's Fair is an event that takes place in September. All the university's clubs and societies have stands that you can explore. This gives you the opportunity to find out which clubs are suitable for you.
Student accommodation
Edinburgh Napier currently houses 1,240 students in three locations in and around the city centre with a variety of room types. Their accommodations are affordable, modern, and staffed by a dedicated team of university staff.
As an alternative to living in university accommodation, you can also opt for private accommodation. There is a wide range of private student accommodation in Edinburgh, but demand is just as high.
Post-study employment opportunities
Following the successful completion of a bachelor's or master's degree in the UK, Graduate visa holders are eligible to stay in the country for a further two years. PhD students are eligible to stay for three years. Finding employment during this time will allow you to switch to a work visa route that will allow you to settle in the UK and eventually obtain citizenship.
Many academic staff at Edinburgh Napier University work in and have close links with the industry in which they teach. Students are advised to talk to their lecturers to find out if they have links with anyone hiring in their industry. This is a really good way to make contacts with companies in the UK.
The university has a dedicated careers team that any student can contact. The team offers a range of services and webinars that you can sign up for and attend. They teach CV writing and things that help you prepare for the world of work after university. They prepare students for what to expect in the UK world of work and offer different events depending on the course that relates to the industry you are interested in.
See also: UK businesses: New Graduate immigration route opens from July 2021.
Bright Red Triangle
Bright Red Triangle is Edinburgh Napier's centre for innovation and entrepreneurial practice, supporting students, staff and alumni in their entrepreneurial adventures. This is a unique service that is a great resource if you are interested in starting your own business or looking into entrepreneurship after graduation. There are mentors you can work with who can give you advice on starting a business. You still have access to this service after you graduate. They have been involved in over 450 startup companies. Bright Red Triangle advises you on running a business, financing and all the legal aspects of starting a business.
International student tuition fees and living expenses
Edinburgh Napier will determine your tuition fee status based on the information provided during the application process. Tuition fees are calculated based on nationality, current residence, programme of study and whether the programme is undergraduate or postgraduate.
As an international student, you will need enough money to pay your fees and living expenses while studying in Edinburgh. The cost of living for international students is set by UK Visas and Immigration. For Edinburgh it is £1,023 per month.
If you are an international student and your total fees are over £6,500, you will need to pay a deposit of £3,500 once you have accepted your offer of study to secure your place.

*Disclaimer: 2022 costs are subject to change.
Scholarships for African students
The university has a limited number of partial scholarships worth £2,000 for self-paying African resident students commencing studies at Edinburgh Napier in January 2023. This scholarship is awarded on a first-come, first-served basis and is awarded automatically once you have paid the £3,500 deposit on your tuition fees.
You must:
Be domiciled in Africa at the time of application
Be self-financing your studies
Meet the admission criteria for a bachelor's or one-year master's programme starting in January 2023
You are not eligible if you receive reduced tuition fees from a partner university or receive another scholarship.
Admission requirements for international students
The university has representatives and international officers who represent Edinburgh Napier University in Africa and around the world.
Undergraduate students
You are eligible to apply for an undergraduate degree if you have completed high school with an overall grade of four or better.
Postgraduate students
If you have obtained a bachelor (honour's) or bachelor professional degree with 60% or higher, you qualify to apply for the postgraduate program.
English language requirements
English language proficiency at B2 - upper intermediate level is required for the UK student visa. Your English secondary school results will usually meet this requirement. If these are not sufficient and you still need an English test, either your university or a third party can test your English skills.
You do not need to take an English language proficiency test if you are applying for a postgraduate course if your undergraduate degree was taught and examined in English and completed within the last two years.
See also: How to study abroad in Australia and the UK as a South African.
Academic pathways available
Edinburgh Napier is made up of six internationally-focused schools, all dedicated to building their academic reputations and offering students a personalised experience. Each of the schools boasts world-class facilities, academics, researchers and international connections.
The Business School
Edinburgh Napier University's Business School is one of the largest in Scotland and the school of choice for many international students. It has been ranked as the 9th most modern UK university for business, management and marketing. A wide range of business courses are offered at undergraduate and postgraduate level, such as:
Accounting
Financial services
Law
Management
Marketing
Tourism
Hospitality management
Event management
The school offers a variety of postgraduate programmes with a focus on an MSc in business management and their MBA programme.
School of Engineering and the Built Environment
The School of Engineering and the Built Environment is ranked among the top 15 universities in the field of civil engineering. Students are equipped with the skills they need to innovate, design, respond and find solutions for a technologically demanding society, and have access to purpose-built laboratories with industry-standard equipment. The university offers a wide range of engineering, surveying and design courses geared towards the job market. Engineering courses offered are:
Civil Engineering
Electrical Engineering
Chemical Engineering
Mechanical Engineering
Transportation Engineering
Energy and Environmental Engineering
School of Arts and Creative Industries
The School of Arts and Creative Industries is widely recognised for its expertise and outstanding creative practices. The work of its students is screened at international film festivals. The school's modern facilities and close links with industry ensure that its graduates are industry-ready and award-winning. Courses on offer include:
Acting
Design, photography and advertising
English, creative writing and publishing
Film, television, journalism and media
Music
Health and Social Care
The School of Health and Social Care offers mainly undergraduate courses in nursing, which unfortunately are not open to international students due to issues such as National Health Service (NHS) funding. There are some postgraduate courses in occupational therapy, physiotherapy and healthcare management at this school. Health care management is a major course at this school and is very popular with international students at master's level.
School of Applied Sciences
Many master's students show interest in the School of Applied Science. Their courses aim to develop students' skills in problem solving, research, IT, and analytical and numerical skills.
Other courses covered by the school include:
Psychology
Criminology
Social sciences
Biomedical science
Wildlife conservation
Pharmaceutical science
School of Computing
Edinburgh Napier's School of Computing enjoys great interest among international students, especially in the field of computer science with professional placements in the MSc in Computing, Forensic Science and Cybersecurity programmes. The university offers a wide range of degree programmes that allow students to specialise in their chosen field and are accredited by the British Computer Society.
At Master's level you can study anything from a module to a full MSc. The MSc Advanced Security and Digital Forensics and BEng Cybersecurity and Forensics programmes were named Best Cyber Education Programme at the 2019 Scottish Cyber Awards.
See also: Everything you need to know about studying abroad (with the IELTS Podcast).
UK Student visas
If you want to study at Edinburgh Napier University from outside the European Union (EU), the European Economic Area (EEA) or Switzerland, you will need a UK Student visa. The earliest you can apply for this visa is three months before you start your course.
How our study abroad consultants help with the application process
Students can apply for admission to the university through Sable International and our expert education consultants will manage the application process for you.
We are committed to providing excellent customer service to our clients and helping students achieve their international education goals. Our experts will guide you through the entire study abroad process, from application to arrival at your chosen international institution. Our services offered include:
Student advice
International university and institution search
Application and admissions support
Visa application assistance
Pre-departure assistance
Qualifications obtained in the UK are recognised around the world. A qualification from a prestigious UK university will give you an advantage when looking for a job. If you decide to live in the UK, it will be much easier for you to find a job there if you have a degree from a UK institution.
Edinburgh Napier University is a great institution to start your journey into tertiary education. Studying abroad will help you learn self-reliance and appreciate other cultures while you overcome the challenges of living in another country and gain a better understanding of the world.
The full interview can be found on our Study Abroad YouTube channel.
---
Are you interested in studying abroad at Edinburgh Napier University? Our study advisers are qualified to help you with applying to various programmes and will assist you along the journey. Get in touch with us at sastudy@sableinternational.com or call us on +27 (0) 21 657 1543
We are a professional services company that specialises in cross-border financial and immigration advice and solutions.
Our teams in the UK, South Africa and Australia can ensure that when you decide to move overseas, invest offshore or expand your business internationally, you'll do so with the backing of experienced local experts.