Our step-by-step guide contains all the information you need to know about applying for a UK visa if you're from South Africa. From choosing your visa, to getting your documents, to waiting periods and visa fees, learn all the UK visa application requirements.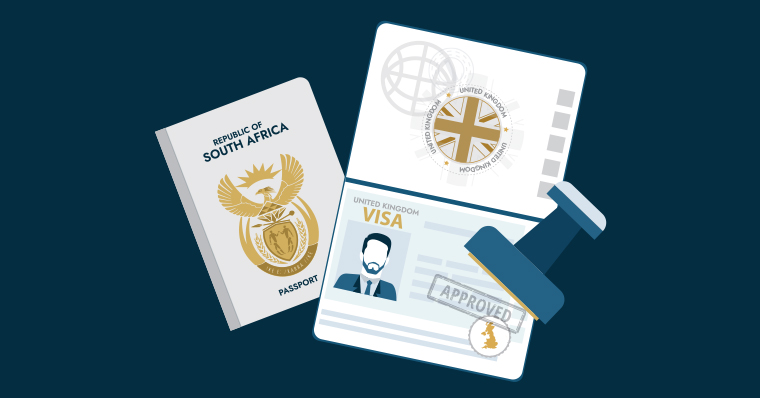 * This blog was first published in February 2020 and has been updated with new information for accuracy.

This guide will help you choose the right UK visa for your circumstances and detail the next steps to start your application.
UK visa application guide contents
Step 1: Choose your visa
There are a host of UK visas that you can apply for. Make sure you choose the right one for your intent. Whether you want to visit, work or study in the UK, there's a visa for you.
Step 2: Get your passport in order
If you've already got a passport, you'll need to check a couple of things:
It needs to be valid for the duration of your stay in the UK
You need at least two blank facing pages for your visa and stamps
If your passport is expired (or about to expire), you'll need to either renew it or apply for a new one, depending on your nationality.
When you apply for a new passport, you'll have to do it in person so your identity can be verified. Processing times can vary – expect to wait around seven to 21 working days. Passports are generally valid for 10 years.
When can't you apply for a UK visa?
If you're already in the UK, you won't be able to apply for a visa. You may be able to switch to a different visa or extend your stay while in the UK.
Step 3: Get all your documents
The documents you need depend on the visa you apply for. Research your specific application to check you've got everything in order.
TB test results
South Africans applying for a UK visa valid for longer than six months are required to provide tuberculosis (TB) results. If you have been living in one of the countries that does not require a TB test, and are returning to South Africa to make your application, a TB test won't be required. Your dedicated caseworker will advise you accordingly.
Why it's so important to be tested at a UKVI-approved clinic
If you get tested at a clinic that has not been approved by by UK Visas and Immigration (UKVI), your application will be denied and you will not be allowed to enter the country on a valid UK visa. It is vital that you contact one of the three clinics below and make them aware that you are undergoing the TB test for a UK visa application.
Before the screening, make sure you bring your passport, two passport-sized photos and proof of payment of your test fee (printed).
Are there any exceptions to this rule?
If you're planning to stay in the UK for less than six months on a UK visitor visa, you don't need to get tested for TB.
If you are applying on behalf of a child/children under the age of eleven, they still need to attend the appointment but will most likely not have to undergo a chest x-ray.
Step 4: Check your visa fees
Different visas have different fees. Make sure you're prepared by checking how much yours will set you back. Here are some common visas and their respective government application fees*:
| Visa | Type | Price |
| --- | --- | --- |
| Transit visa | Direct Airside Transit (DATV) | £35 |
| | Visitor in Transit | £64 |
| Standard Visitor visa | Valid for six months | £115 |
| | Valid for two years | £400 |
| | Valid for five year | £771 |
| | Valid for 10 years | £963 |
| Child Student and Student visa | Application outside the UK | £363 |
| Global Talent visa | Stage 1 (endorsement) | £524 |
| | Stage 1 (visa application) | £456 |
| | Stage 2 (visa application) | £192 |
| | Applying based on an eligible award | £716 |
| Global Business Mobility visa | Expansion Worker, Service Supplier, Secondment Worker, Graduate Trainee | £298 |
| | Senior or Specialist Worker visa (Three years or less) | £719 |
| | Senior or Specialist Worker visa (Over three years) | £1,420 |
| Family visas | Partner, parent or child | £1,846 |
| | Dependant added to your application | £1,846 per person |
| | Adult who needs to be looked after by a relative | £3,250 |
| Ancestry visa | | £637 |
*These fees are correct as of 4 October 2024 and are charged by UKVI and exclude any fees charged by us.

Immigration healthcare surcharge
You might need to pay a healthcare surcharge as part of your immigration application, depending on the visa you're applying for. The current IHS fee of £624 is set to increase to £1,035 at the end of 2023 or early 2024.

You'll have to pay:
£776 per year for a Student visa, for example £1,552 for a two-year visa
£776 per year for visa and immigration applicants who are under the age of 18 at the time of application
£1,035 per year for all other visa and immigration applications, for example £5,120 for a five-year visa
Step 5: Apply for your UK visa
We always recommend letting an experienced immigration consultant help with your visa application. From start to finish, they will be with you at every step. No visa application process is the same, and your requirements will vary according your circumstances.
Once they know what you're looking for, they will talk you through the process and provide you with all the information you need to ensure a smooth application.
They will also help you get all your documents in order and submit the application on your behalf.
Step 6: Attend appointments
As part of your application, you may be required to attend an appointment to capture your biometric information – photos and fingerprints. You'll need to check what the process is in your country or speak to an advisor if you're unsure. If we handle your visa application, we'll let you know well in advance about any appointments you'll need to attend.
Step 7: The waiting period
After you've made your application, all that's left is to wait for a decision. There are no definite waiting periods, but it's generally a couple of weeks. Here's how long it can take per visa category:
| Visa type | Length (working days) |
| --- | --- |
| Long-term visit (more than six months) | 15 days |
| General visit (less than six months) | 15 days |
| Business visit (less than six months) | 15 days |
| Family visit (less than six months) | 15 days |
| Transit (less than six months) | 15 days |
| Skilled Worker visa | 15 days |
| Other non-settlement visas | 60 days |
It's important to note that post-Covid these waiting times have increased drastically. You could wait up to 15 weeks for a decision on a Skilled Worker visa, and 24 weeks for a Spousal visa at this point in time.
Step 8: Before you leave
Aside from your visa, there are a few other things you need to consider before you set off to the UK. Of course, you'll need to book flights to get there. You'll also need to plan for any costs associated with staying there, such as accommodation, food and transport.
Step 9: Enjoy the UK
Whatever your reason for going to the UK, we know you'll have a great time. We've been helping people move there for over 20 years. Our clients have had some amazing experiences and success stories. Let us help you get settled in the UK. From opening a UK bank account and getting your NI number, to all-in-one relocation packages - we're there for you at every step.
Get started on the right foot with your new life in the UK.
---
We are a professional services company that specialises in cross-border financial and immigration advice and solutions.
Our teams in the UK, South Africa and Australia can ensure that when you decide to move overseas, invest offshore or expand your business internationally, you'll do so with the backing of experienced local experts.