Indefinite leave to remain (ILR), is the first step you'll take to becoming a UK citizen. Here's a guide on how to qualify and apply for permanent UK residency.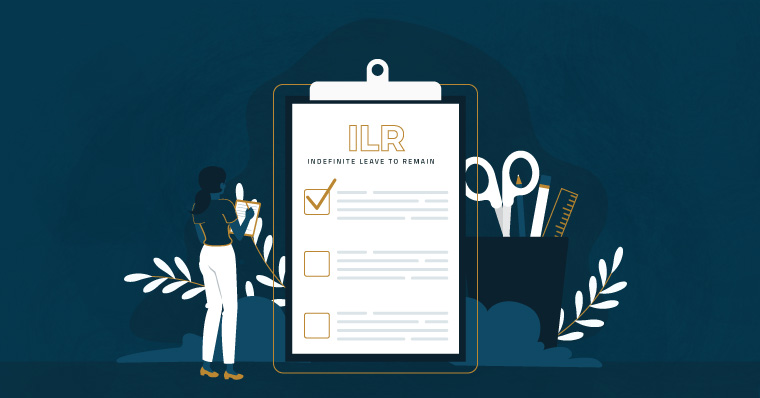 This blog was first published in January 2015 and has been revamped and updated for accuracy and new information.
What is indefinite leave to remain?
Indefinite leave to remain gives you permanent residency status in the UK and is the first step you need to take if you are on a visa and you want to become a British citizen through naturalisation. ILR allows you to work without restriction in the UK and exit and re-enter the country as often as you like.
Once you have held ILR for 12 months you can apply for UK citizenship, unless you are married to a British citizen, then you can apply to naturalise as soon as you have received ILR status. Besides the lack of work restrictions, there are other benefits to ILR. Your ILR can be extended to dependants such as spouses and children who will enjoy the benefits too. These dependants will also be viewed as home students when applying to university rather than foreign students who pay foreign student fees.
Who can apply for indefinite leave to remain?
Narrowing down which groups of people can apply usually depends on which visa you are or have been holding. While some visas have their own specific criteria, the general requirements for everyone applying for ILR are:
UK visas eligible for indefinite leave to remain
Not all UK visas are eligible for ILR. If you hold one of the following visas, you could be eligible for ILR:
The Skilled Worker visa. The Skilled Worker visa replaced the Tier 2 General visa in January 2021. If you still hold a Tier 2 General visa, you are also eligible for ILR. Note that you will need to meet the updated requirements stated for the Skilled Worker visa
Family of a Settled Person visa, also known as the spouse visa
A Tier 1 Business or Investor visa
Retired Persons visa
The following UK visas are not eligible for ILR. Should you wish to obtain permanent residency, you'll need to switch to another visa:
Indefinite leave to remain requirements
Before you can apply for ILR you must meet specific requirements:
Lived or worked on an eligible visa for five years.
Not have left the UK for more than 180 days in any rolling year in those five years.
Take and pass your English language test and Life in the UK Test.
Indefinite leave to remain residential requirements
To meet the ILR residential requirements, you must prove that you have lived in the UK for at least five years before the date of your application. During this five-year period, you must also not have spent more than 180 days outside the UK in any rolling year in that period.
Indefinite leave to remain income requirements
The income requirements are dependant on the visa category you are currently on, as well as how you have earned your income.
When can I start my indefinite leave to remain application?
You can apply for indefinite leave to remain 28 days before your visa expires.
Applying for indefinite leave to remain
If you meet all the criteria listed above, there's a good chance you could be on your way to British citizenship. The first step is to apply for indefinite leave to remain. A UK immigration and citizenship expert can ensure your application meets all the requirements and is submitted correctly. That way you avoid any delays and additional costs.
No matter how complex your case, our citizenship and immigration consultants can help you every step of the way. Contact our team on +44 (0) 207 759 5330 or at immigration@sableinternational.com.
We are a professional services company that specialises in cross-border financial and immigration advice and solutions.
Our teams in the UK, South Africa and Australia can ensure that when you decide to move overseas, invest offshore or expand your business internationally, you'll do so with the backing of experienced local experts.