The UK family visa has a few different categories depending on your relationship status. The spouse visa, or "partner visa", is the most common but we look at how it compares to the lesser-known fiancé visa and what the benefits of each are.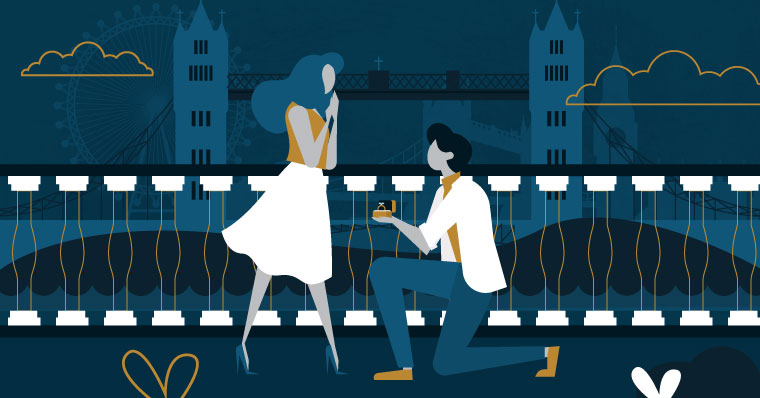 If you want to join a family member in the UK, then you will have to apply for what is officially referred to as a "family of a settled person" visa. This category of visa is further broken down depending on your relationship status. This allows dependants, partners or spouses of British citizens to join their family members in the UK.
The most common visas in this category are the child dependant visa and the spouse or partner visa. But there is also a visa for those who intend to get married, referred to as the fiancé visa.
What is the UK fiancé visa?
The same way the spouse or partner visa allows you to join your spouse or long-term partner in the UK, the fiancé visa allows you to join your future spouse in the UK in order to get married and then live there. The visa is valid for six months, during which you must get married or enter into a civil partnership.
The fiancé visa itself does not lead to indefinite leave to remain (ILR) but it can be used to start your route to citizenship. Once you are married, you will be able to switch to a spouse visa from within the UK, which will be valid for two and a half years. This can be extended for another two and a half years. After being in the UK for five years you will be able to apply for ILR. The time you spent in the UK on your fiancé visa will not count toward these five years. After holding ILR for at least 12 months, you will be able to apply for British citizenship.
What is the difference between the UK Spouse visa and the fiancé visa?
In order to apply for a spouse or partner visa, you have to already be married or be in a long-term relationship and have been cohabiting for at least two years to apply for a spouse or partner visa. With a fiancé visa, you don't have to meet the cohabitation requirement, but you do have to prove that you are in a genuine relationship.
There are a few other key differences between the two.
The fiancé visa is only valid for six months while the spouse visa gives you leave to stay for two years and nine months
You will not need to pay the immigration health surcharge (IHS) for the fiancé visa, but this fee will be due when you apply for your spouse visa
You cannot work in the UK on a fiancé visa, whereas you can work without restriction on a spouse visa
Eligibility requirements for a fiancé visa
The fiancé visa has a lot of the same eligibility requirements of the spouse visa, including the financial requirement of having a combined income of at least £18,600 per annum and being in a genuine and serious relationship with a British citizen or a person with settled status.
Other requirements include:
Proving you intend to marry or enter a civil partnership with your partner while you are in the UK
Demonstrating your knowledge of the English language
Showing you intend to live together in the UK once you are married
Proving you and your partner will have suitable accommodation whilst in the UK
Citizens from certain countries will also need to provide a negative Tuberculosis test
See also: UK spouse visa fees: What are the financial requirements
How much does a fiancé visa cost?
A fiancé visa costs the same as any other partner visa – £1,538. When you apply for your spouse visa after you get married, you will have to pay £1,033 as well as the IHS. The IHS for the spouse visa is £1,560.
Therefore, the full amount you will pay, £4131. This is somewhat more expensive than the spouse visa which would cost you £2,593.
What happens if you don't get married in six months?
If you don't get married within the six months, you will have to show, with good reason, why the marriage did not take place. If the Home Office accepts the reasoning and there is evidence that a ceremony will take place within the next six months, you will then have another six months to get married.
Difference between Fiancé visa and Marriage Visitor visa
A Marriage Visitor visa is a short-term visa that allows you and your partner to travel to the UK to get married or register a civil partnership. You should apply for this visa if you're both not British citizens, or have settled status in the UK, and only intend on having your wedding ceremony in the UK and do not plan on settling there permanently. Both you and your partner will need to apply for a visa.
You can stay in the UK for up to six months on a Marriage Visitor visa, which gives you plenty of time to explore the UK after your wedding.
See more: Indefinite leave to remain: Your first step towards UK citizenship
Why would you opt for a fiancé visa over a spouse visa?
As with all visas, it always depends on your circumstances, your intentions and which visa would be best for you.
If you are already married, then the spouse/partner visa is the obvious route. If you're unmarried, then you have two routes you can take depending on your situation: if you have been cohabiting for two years then you could qualify for a spouse/partner visa without being married. If you don't meet this requirement and you intend on getting married or entering into a civil partnership, then you might consider a fiancé visa.
But looking at this scenario, the spouse visa might still be the better option if you're able to get married in your country of residence. This way you can apply for your spouse visa and there won't be any time spent in the UK that won't count toward ILR.
One reason that you might consider a fiancé visa is if you're dead set on a wedding in the UK. Another would be or if you're in a same-sex relationship and are not able to get married in your country of residence.
How to prove your relationship
Because the Home Office guidance is vague, it can be difficult to know how much evidence you must provide to adequately meet the genuine relationship requirement. The evidence of your relationship is the most significant part of your visa application, so you should ensure that you submit a substantial portfolio of supporting documents alongside your application.
There are a number of documents a couple can use to evidence their relationship, they can include but are not limited to:
A written statement detailing your relationship with your partner, including a timeline of your relationship. You should include details about how and when you met your partner, how your relationship developed and your intention to live together in the UK.
Photographs that you have together that can be used to cover the chronology of your relationship.
Fiancé visa applicants should provide proof of their plans to marry in the UK, including information about the wedding ceremony and any booking confirmations.
Evidence of any trips you've taken together such as travel itineraries or hotel bookings.
Our visa agents can advise you on all the documents you will need for a successful application.
How our UK visa agents can help with your visa application
Before making your visa application, it's a good idea to look into the types of visas the UK offers to find the one that best suits your immediate and long-term plans. No visa application is the same and requirements vary according to your circumstances.
We always recommend getting advice from an immigration advisor first. They can assess your circumstances and find the right solution for you. UK visas are costly and errors on your application could result in your visa being refused.
An immigration consultant can also help get all your documents in order, submit the application on your behalf and ensure your application has a greater chance of success.
---
Our consultants stay up to date on all the changes to UK immigration rules. If you have any questions about obtaining a UK visa or switching to a different visa, get in touch with us on +27 (0) 21 657 2153 or at immigration@sableinternational.com.
We are a professional services company that specialises in cross-border financial and immigration advice and solutions.

Our teams in the UK, South Africa and Australia can ensure that when you decide to move overseas, invest offshore or expand your business internationally, you'll do so with the backing of experienced local experts.

;