Relocating your family to the UK can seem a bit daunting. Ensuring your kids find a school that is the right fit for them is important, but the UK school system is complex, and can be tricky to navigate as a first-timer. Luckily, we have a handy breakdown of the UK school system below. Read on so you can be fully prepared to make the best decision for your children.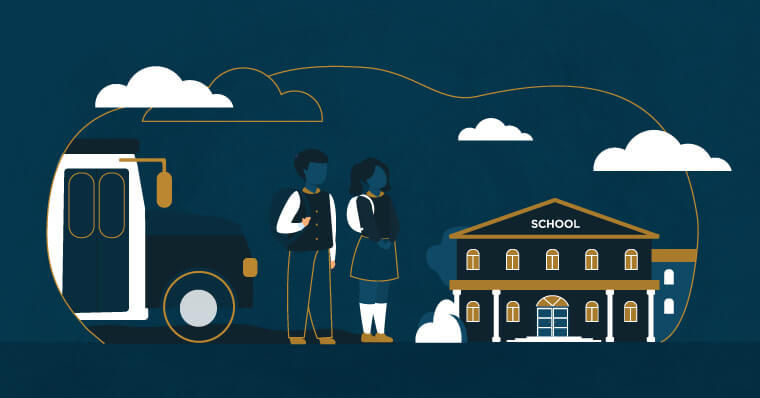 How UK schools are structured
The UK school system is divided into three phases:
Primary: Children aged 5 to 11
Secondary: Children aged 11 to 16
Further: Children aged 16+ taking A-Levels, GNVQs, BTECs and other qualifications
It is compulsory for all children in the UK to attend school in the primary and secondary phases, while further education is optional. Students who wish to attend a college or university to further their studies after school will need to complete their further education.
*See our comprehensive infographics on how South African schools compare to UK schools.
State-funded vs fee-paying schools
Schools in the UK are divided into state-funded and fee-paying.
State-funded schools are mostly free of charge and are usually called primary or secondary schools. Grammar schools are state-funded secondary schools with specific admission criteria. They usually require all applicants to take a common entrance exam. Fee-paying private schools are generally called preparatory or senior schools.
Types of schools in the UK
Below is a comprehensive breakdown of the most common types of schools in the UK:
Community schools

Run by the local council
Not affiliated with business or religious groups

Voluntary schools

Run by the local council
Free to be administrated as school sees fit

Grammar schools

Run by the local council, a foundation body or a trust
Students selected on academic ability
Applicants usually required to write an entrance exam

Faith schools

Run by a religious group
The national curriculum is supplemented with religious studies
Admission and staffing policies are determined independently

Free schools

Often set up by charities and community groups
Non-profit institutions
Not required to follow the national curriculum

State boarding schools

Academies and free schools
Free education
Fees charged for boarding

Academies

Run by a governing body, independent from the local council
Not required to follow the national curriculum
Funded by government not the local council

Private schools

Privately run
Fees to attend
Not required to follow the national curriculum

Special needs schools

Privately run
Set up for children with special educational needs
Follow a specialised curriculum

Our 1st Contact team can sort you out with everything you and your family need to start your new lives in the UK. Give us a call on +44 (0) 20 7759 7536 or send us an email on 1stcontact@1sableinternational.com and one of our team members will be in touch.
We are a professional services company that specialises in cross-border financial and immigration advice and solutions.
Our teams in the UK, South Africa and Australia can ensure that when you decide to move overseas, invest offshore or expand your business internationally, you'll do so with the backing of experienced local experts.