Robyn Vogels, Founder and Owner of Personnel Relocations, gives her advice on which time of year is best for a move Down Under and how to cut down costs if you need to make the move during peak season.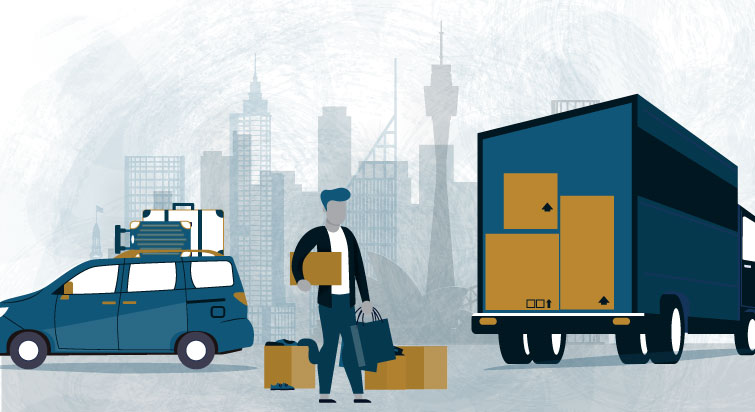 It is always a good time to move to Australia!
Of course, we would say that. In all honesty, though, the timing of your move can have cost implications. Today, we look at the few considerations you should keep in mind when planning your relocation.
How timing affects relocation cost
Removalists
When moving companies have excess work, they will charge higher rates. This is not to take advantage of the demand, but because excess work means excess costs for them. For example, they often have to employ additional staff to handle the workload. Labour costs contribute significantly to the cost of removals.
As with most things, removalists have a high season. For Australia, this is summer. Many people are moving domestically during that time. Now, for internationals, if you are also currently based in the Southern Hemisphere, then it would be summer in both your departure country and on arrival in Australia – this will impact your quotes.
Solution: If you can't change the season you move in, the way around this would be to obtain your removal quotes early on in your relocation, as early as possible and lock them in. That way, as their demand increases during their quoting stage, they will load other quotes, not yours.

See also: Emigrating from South Africa? The timing will affect your tax payments
Accommodation
Again, high season is a big factor. If you relocate over the Australian Summer, your temporary accommodation costs could be 20-30% higher than normal. Consider this when you plan your move. Unfortunately, no matter how early you book accommodation, the prices will already be fixed for the high season. That said, the earlier you can book, the more choice you will have – whilst there are still choices, there is an opportunity to save money.
It is not all bad news. There are ways to save money elsewhere in your relocation if you do need to move during the high season. We know that most people, with school-aged children, will move at the start of the school year. In Australia, this is January, summer and the high season.
Solution: Accommodation alternatives. Using a relocation company can reduce your stay in temporary accommodation, or a service such as INSPECT4U by Personnel Relocations will eliminate temporary accommodation.
Another great option for high season is to house sit. There are websites such as Aussie House Sitters, where people post if they are looking for people to house sit for long periods of time. Again, locking this in early will give you more options.
Bonus tip: When booking a house sit or temporary accommodation, make sure there are plenty of convenient food options, markets or grocery stores nearby. You want to save money on car hire and fuel, so having options within walking distance is key.
Schooling
The cost of living in Australia is high, and education costs are no different. Private schools can charge upwards of $30,000 per year, and even public schools can cost several thousand dollars per year. While schooling in Australia can be expensive, there are several ways that you can offset the cost if you move at the right time.
One of which is buying second-hand uniforms. At the start of the school year or even the end of the previous year, you'll be able to buy uniforms and books from others.
Solution: Keep an eye on Facebook Marketplace or enquire with the school the children will attend. Most schools now operate a Facebook page to sell used school uniforms. Remember that a private school uniform will set you back $800 to $1000. Keeping an eye out for used uniforms is a great way to save money.

See also: Australian public schools – who pays and who does not?
About Robyn Vogels
Robyn Vogels is the Founder and Owner of Personnel Relocations, which simplifies the process of relocation to make it comfortable and hassle-free at an affordable price. With excellent care and the right guidance, Personnel Relocations can help your employees make the right start in Australia.
They understand that every relocation is different and each one has different goals. To contribute to your employees' settling in Australia, they have alliances with experts such as relocation mentors, life coaches, cross-culture trainers, baby equipment hire, business communication specialists, local and international furniture removals, interior designers, decluttering, unpacking and setting up trades services which can help with specific needs.
It is not unusual for Personnel Relocations to handle the full suite of relocation needs, all from just one call. Message them more information. You can also follow Personal Relocations on Facebook or follow Robyn on Instagram or YouTube.
---
If you'd like assistance applying for your Australian visa or Australian citizenship, our team of experts is ready to make the whole process easier. Get in touch via email on migration@sableinternational.com or call +27 (0) 21 657 1526 (South Africa) or +44 (0) 20 7759 5307 (UK) to discuss your options in more detail.
We are a professional services company that specialises in cross-border financial and immigration advice and solutions.

Our teams in the UK, South Africa and Australia can ensure that when you decide to move overseas, invest offshore or expand your business internationally, you'll do so with the backing of experienced local experts.

;