Since leaving the European Union at the end of 2020, the UK has announced a string of changes to its immigration system. Here's a recap of how things have changed over the past year.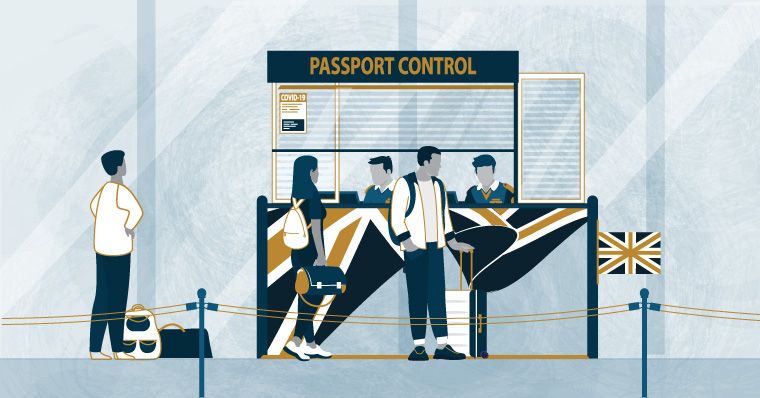 One immigration system for all migrants moving to the UK
On 31 December 2020, the free movement rights of EU citizens came to an end. A new immigration system was created that brings both EU and non-EU citizens under a singular immigration regime. To enter the UK, EU nationals now have to apply for a visa and meet the same requirements as all other citizens entering the UK.
How 2021 has affected companies employing EU citizens in the UK
Employing EU workers in the UK from 2021
We clarify what it means for employers when it comes to checking whether their staff have the right to work in the UK, and what prospective employees from the EU need to do now.
In this article, we explain the legislative changes affecting UK employers, current EU employees as well as those looking for work in the UK. Here are the steps that will need to be taken going forward and how they might impact your business.
Deadline for applications to the EU Settlement Scheme fast approaching
The UK government released a list of acceptable reasons for applying for settled or pre-settled status after the deadline of 30 June 2021. We take a look at what this meant for UK businesses.
Immigration law changes that have affected EU citizens and other foreign nationals working in the UK
New immigration rules came into effect April 2021
The Home Office published a new set of UK immigration rule changes, the majority of them relating to the work and study routes that took effect in April 2021.
Business growth: Expanding into the UK opens up immigration routes
With a brand new immigration system, there's more opportunity than ever for you to
expand your operations to the UK
and experience unrivalled business growth, all while using it as a vehicle to sponsor you and your family members to a new life abroad.
Business immigration Q&A: EU settled status, Skilled Worker visas and the sponsor licence
When it comes to business immigration, and gaining a sponsor licence, there is a lot to know. We receive many queries around the specifics of applying for work visas, the deadlines related to EU settled status and how to get a sponsor licence. Our experts answered some of the most frequently asked and often unanswered questions about business immigration.
Global Talent visa: New immigration route opens for esteemed award winners
The UK launched a fast-track immigration route under the new Global Talent visa for individuals who have won top awards, including Nobel Prizes, Oscars and Golden Globes.
From the Tier 2 General to the Skilled worker visa: New work visa category
On 1 January 2021, the Tier 2 (General) visa category was replaced with the Skilled Worker visa. To apply for a UK work visa, applicants now have to obtain 70 points as part of a new points-based system. Other requirements include:
Meeting a minimum education level
Earning a minimum salary appropriate to the occupation
Having a satisfactory grasp of the English language
A job offer from an employer that is approved by the UK Home Office
FAQ: How to immigrate to the UK under the new points-based system
The UK introduced a revised points-based system on 1 December 2020. If you want to know how to immigrate to the UK, you'll need to be aware of the regulations.
UK employer guidance on right to work checks for 2021 and beyond
UK employers are now required to perform right to work checks to ensure their EEA and EU employees hold settled or pre-settled status. Failure to conduct a right to work check can result in fines from the Home Office. This guide will take you through exactly what's required.
The UK work visa specifically for healthcare professionals, known as the Health and Care Worker visa, provides a skilled worker route for many jobs including nurses, paramedics, various technicians and therapists. Here are some of the requirements and details of the Health and Care Worker visa route to finding work in the UK.
How to switch to a Skilled Worker visa from a Study, Youth Mobility or ICT visa in the UK
Under the new rules, workers in the UK who hold a Student, Youth Mobility Scheme or Intra-company transfer visa are now allowed to switch to a Skilled Worker visa without having to leave the UK. We take a closer look at the conditions needed to make this switch.
Studying in the UK: The new Graduate route and changes to the UK's Student visas
From 1 December 2020, the Standard Visit visa replaced the Short-Term Student Visa. The Standard Visit visa now allows students to come and study in the UK for up to six months. The Short-Term Study route is now limited to individuals who wish to study an English language course that is six to 11 months long.
UK businesses: New Graduate immigration route opens from July 2021
The UK government opened applications for a new Graduate route on 1 July 2021. If you obtain a bachelor's or master's degree in the UK, this new Graduate route will allow you to stay for a further two years. PhD students can stay for three years. You can use this time to find work and switch to a work visa route that will allow you to
settle in the UK
and eventually obtain
citizenship
. This will allow UK businesses to retain the best international students in support of the country's economy post-study.
---
We are highly experienced in assisting employers in all areas of business immigration. We deliver strategic global mobility advice as well as immigration service management. Get touch with us at workpermits@sableinternational.com or on +44 (0) 20 7759 5307.
We are a professional services company that specialises in cross-border financial and immigration advice and solutions.

Our teams in the UK, South Africa and Australia can ensure that when you decide to move overseas, invest offshore or expand your business internationally, you'll do so with the backing of experienced local experts.

;